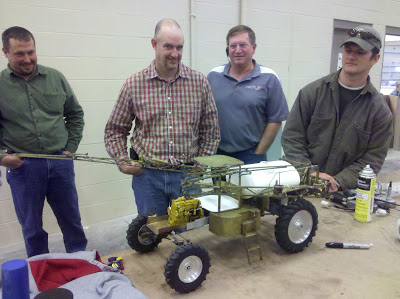 Nathan Rowings (far right) shows off what will soon be his hydraulically-powered remote control Apache AS710 to employees at Equipment Technologies.
Nathan Rowings, an Apache AS710 sprayer owner from Greencastle, Indiana, has taken his appreciation of Apache sprayers to a whole new level.
For the past three years, Rowings has been in the process of building a scaled replica of his AS710. Not just one he can put on display, but one he can operate. His plan is to have the model sprayer hydraulically-powered by remote control and install a functioning wet system. That's right; it will actually spray water out the booms.
"I've just always been into models and RC cars growing up," said Rowings. "This is the first one I've built myself. I think it's going to turn out great."
The model is nearly identically scaled to the sprayer's engineered design. The most important tool Rowings says he is using is a jewelers blowtorch to help him weld the different pieces together. In the end, the model sprayer will get a fresh coat of Apache red paint and decals will be stuck on. Rowings says he will keep us posted on his progress and will bring his RC sprayer back to the factory when it's complete.
"I've been working on it off and on for some time, but hope to have it finished by August 2013," said Rowings.
Keep up the great work Nathan!