In honor of Young's Equipment Inc.'s 25th anniversary, the company donated $500,000 to the Shock Trauma Air Rescue Society (STARS).
STARS is a non-profit organization that provides helicopter air medical transportation in southern Saskatchewan and is based in Regina. The organization is geared towards reaching people in rural areas faster to help save lives.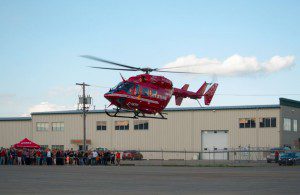 STARS is new to Saskatchewan and Young's felt like this would be a great opportunity to work with a charity that saves lives in rural areas. "Since many of Young's employees and customers work in rural areas, the donation to STARS seemed like a good fit," according to Karlie Pusch, marketing specialist at Young's Equipment.
The anniversary celebration began with Tim Young giving a speech and then presenting the check to the executive vice president of the STARS foundation, Rod Gantefoer.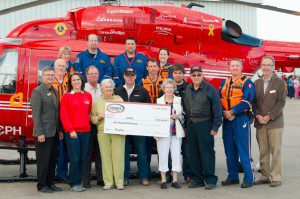 Gantefoer reiterated the importance the donation will make to those in rural areas, but also added that it will benefit urban dwellers who venture out to rural areas, so it will be a benefit to all.
Those present at the event also had the opportunity to check out the ambulance. Afterwards, the party ensued with a barbeque, according to Pusch.
Young's Equipment has been an Apache dealer for over ten years and covers southeast Saskatchewan.
Photos from the event were provided by www.jyoungsphotography.com.