Equipment Technologies was recognized by Raven Industries as a Top OEM Sales Partner at the 2013 Raven Innovation Summit. ET has worked with Raven for more than ten years to bring quality, innovative precision options to the spraying industry.
The awards presented at Raven's annual technology summit in Sioux Falls, South Dakota were given to equipment manufacturers who work closely with Raven to deliver the best in what both entities have to offer. Raven extended the honor to Equipment Technologies with a plaque commemorating the cooperation of the two companies.
Accepting the award on behalf of ET was Kevin Covey, Equipment Technologies Director of Parts and Service.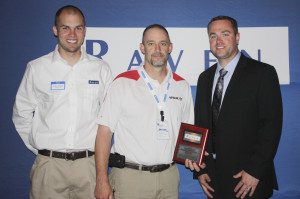 "The partnership Equipment Technologies has with Raven Industries is an invaluable asset to our joint success," said Covey. "As the precision ag landscape continues to evolve, we share the same standards and goals of providing leading precision products and service to our customers worldwide."
During the three day summit, Raven featured its new product lineup, including Viper 4, their latest field computer, and a new product tank fill monitor. In addition to the product launch, Raven hosted a number of precision experts to speak about a wide range of precision topics.