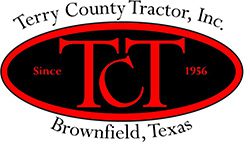 Equipment Technologies would like to announce the addition of Terry County Tractor (TCT) to our family of authorized Apache Dealerships.
Located in Brownfield, Texas, Terry County Tractor's roots go back to 1956 when Frank Melcher started an Oliver tractor dealership. In 1961, they began offering the Massey Ferguson line. Then, in 1997, they branched out into application and began representing the SpraCoupe line of self-propelled sprayers. By the mid-2000's, TCT was continuously recognized annually as the largest SpraCoupe dealership in the nation – a testament to their growth and focus on application sales and service excellence. 
The recent decision by AGCO Corporation to drop the SpraCoupe brand left TCT and its customers in search of a dependable and long-term partner for self-propelled sprayers.  According to TCT President Doug Melcher, "Terry County Tractor has the philosophy that we have as many sales people as we do customers. Since 1956, that has been the foundation of the trust we build with each and every customer." He adds, "And, now that we can offer our customers the Apache, we feel that we are in a position to continue that legacy with a new partner who has the same focus. Really, the timing for this change could not be better."
We encourage growers of west Texas to visit TCT to learn more about the 2014 Apache sprayer.