Proven To Work As Hard As You Do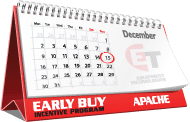 Crop protection costs money. We can't change that, but we can help provide some serious savings. Why not save money today and be ready to fight a smarter fight against weeds, fungus and insects next spring with a brand new Apache Sprayer?
The cost cutting features of the Apache give it the lowest cost of ownership on the market. This, combined with our Early Buy Incentive program, ensures that the decision to buy now pays off for years to come.
Testimonials
"I tell people just to drive our machine one time, and they will fall in love with it. I just love these sprayers! They are good machines, and if somebody were to go out and look at a higher dollar sprayer, they wouldn't buy it. I think this Apache is all that anybody would need."
Travis Hayden, 3x Apache Owner
Utica, KY
…Because of the suspension, we don't feel as bad at the end of the day—that adds a quality of life that is tough to quantify. We use less fuel per acre than our previous rig—the Apache takes less horsepower to get it across the ground. And, you can do it at a faster rate. All those things add up to a lot of dollars and sense."
Perry Miller
Findlay, OH
Want to Learn More & Schedule a Demo?