ET is pleased to offer an opt-in marketing package program to help promote your dealership straight to potential customers. Select from a variety of creative options and run as many promotions as you like!
Each promotion costs $400* + postage/shipping.
       *This is not eligible for co-op reimbursement as it is highly discounted
Creative Samples
View samples of creative packages by clicking on a thumbnail below. Packages include a customized counter mat insert (2), direct mail postcard (up to 200) and statement stuffers (200).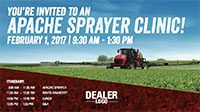 Benefits to Dealers
Marketing becomes a simple and cost-effective process for the dealers at a local level – highly targeted
Dealers can act on needs for their operation in a timely manner, when needed
Exclusive to each dealer with prominent dealer info imprinted – no shared/multiple listing dealer
Highly-targeted to potential Apache buyers based on dealer contacts
Multiple touch points each providing a different message, yet consistent look
Pre-approved co-op program mean ET picks up all additional costs (unless otherwise noted)
Automated program, after signup, dealer doesn't have to do anything else
Required Items
Please email the following items to: marketing@etsprayers.com.
Dealer logo – black version in .png, .eps or .jpg format (or upload below)
List of 200 names and addresses for direct mail (in provided Excel template)

If you have different lists per promotion, indicate specific promotion in file name.
If a list larger than 200 mailers is desired, per-dealer pricing can be determined by Lessing-Flynn. Additional mailers will be at full-cost to the dealer.
Dealers can provide their own customer list or, for an additional cost, Lessing-Flynn can pull data to target potential customer in the local dealership area. Pricing of data lists can vary based on quantity and information requested.
REGISTRATION
Complete the form below to register for the Opt-In Dealer Marketing Packages. If you have any questions, please contact marketing@etsprayers.com or 515.274.9271 (ask for Cassandra).