AS1050
Our 1,000-gallon AS1050 is an ideal fit for almost any operation. Large enough for higher rate application yet still lightweight, maneuverable with great visibility.
Durable Transmission
A durable ZF 6-speed power-shift trans with a lock-up torque converter multiplies engine torque up to 2x. We take the 225 HP that our Cummins Series V Engine provides and put it to use as efficiently and effectively as possible.
Performance Without the Weight
With the AS1050, you get the features and benefits of power, efficiency, comfort, and durability- plus all the Precision Ag options you could want without all the extra soil compacting weight.
AS1050 Features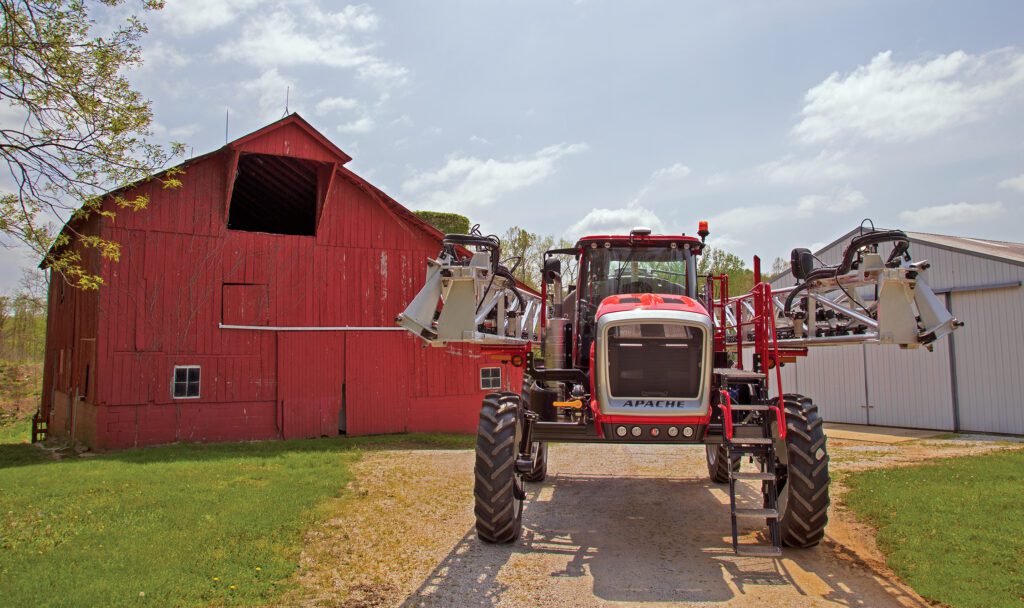 Product Tank Capacity: 1,000 gallons
Weight: 20,200 lbs
Engine: Cummins QSB6.7 Performance Series 225HP (rated)
Transmission: ZF power shift 6 speed
Crop Clearance: 42″ with JCB planetary final drive or 50″ with 18″ drop box all-gear final drives
Power, performance and value- that is what you can expect from Apache Sprayers.

Equipment Technologies
AS1050 Standard Features
Improved Operator Ride
Enjoy a more comfortable ride. Our fluid-elastic active "Hydrocone" cab isolators from AMC Mecanocaucho improve the ride by as much as 50% by better absorbing shock and displacement of the chassis.
Ease of Steering
Our variable displacement load-sense piston pump provides the right amount of hydraulic flow at all speeds while reducing steering effort by as much as 20% for ease of steering at headlands, hills, and tight corners.
Boom Recirculation
Helps in priming the boom before spraying, ensuring a precise and uniform spray pattern. It also reduces and/or eliminates product settling in boom pipes, enables accessible and complete cleanout of the booms, detects spray mode vs. recirculation mode automatically, and works with different precision options such as individual nozzle control, section control, etc. with built-in low-flow alert.
Additional AS1050 Specifications
Axle Width: 120″ fixed or 120″-160″ hydraulic adjustable
Tires: Michelin 380/80R38 front, Michelin 380/90R46 rear
Product Tank: HDPE, high-density polyethylene
Cab: Heated and cooled leather seat
Warranty: 2-year bumper-to-bumper and 5-year limited warranty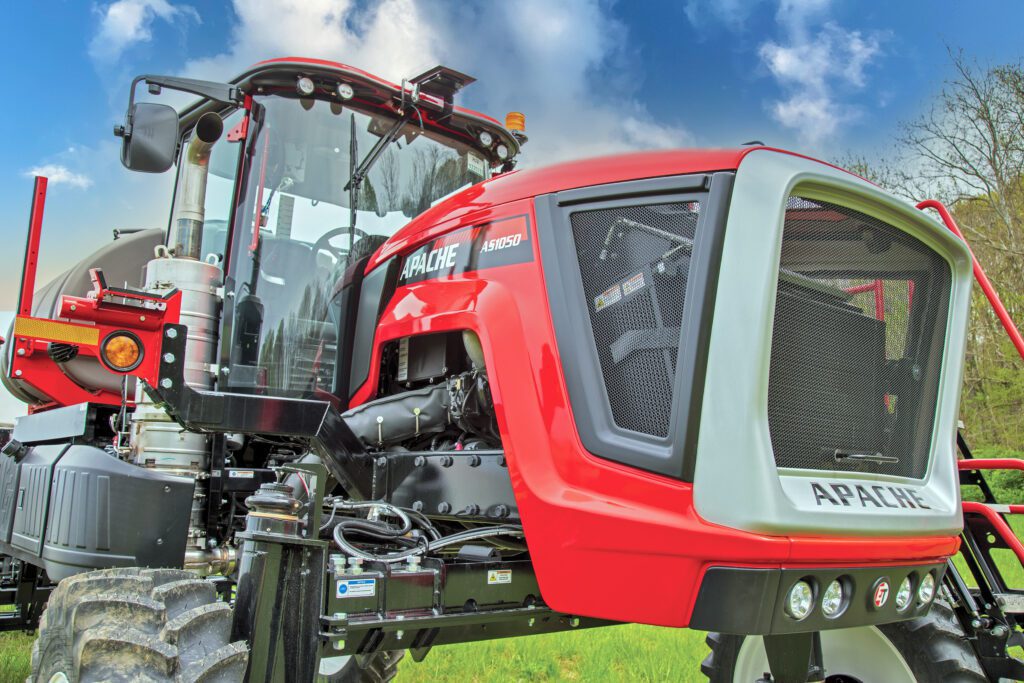 Request a free field demo and find out why EquipmentWATCH ranks Apache Sprayers Highest Retained Value in the industry.
Our sprayers are reliable for many reasons, one being our lean manufacturing to build sprayers exactly the way you want them. That means we don't force you to pay for the things you don't want or need. Our "a la carte" menu gives you the freedom to choose upgrades, so your sprayer is customized for you and your operational needs.
Option

Description

Fence-Row Nozzles
These added nozzles are great for keeping fence lines and
outer edges of fields clean. The extra nozzle can be added to the left or right side of the boom, or both.
3-Inch Product Fill
Fill up faster thanks to the upgraded 3-inch diameter
product fill connection.
Hypro® Cleanload™
The Hypro Cleanload is a self-contained eductor system that allows operators to mix liquid and dry chemicals safely and quickly.
Power Mirrors
Operators have the option of adjusting the single power side mirror attached to the cab from within the cab.
Schedule your FREE Apache field demo and get a no-obligation sales quote.

Want more information?