AS1050
We don't sacrifice comfort. Our 1,000-gallon AS1050 sprayer is an ideal fit for most any farming operation. A durable ZF 6-speed power shifting transmission, equipped with a lock-up torque converter, doubles the engine's torque. The lock-up function couples the engine to the transmission, creating a direct drive transmission. Our transmissions are battle tested year-round in extreme conditions by world-class off-highway heavy equipment makers. You get the shifting power you need, without the added weight.
AS1050 Features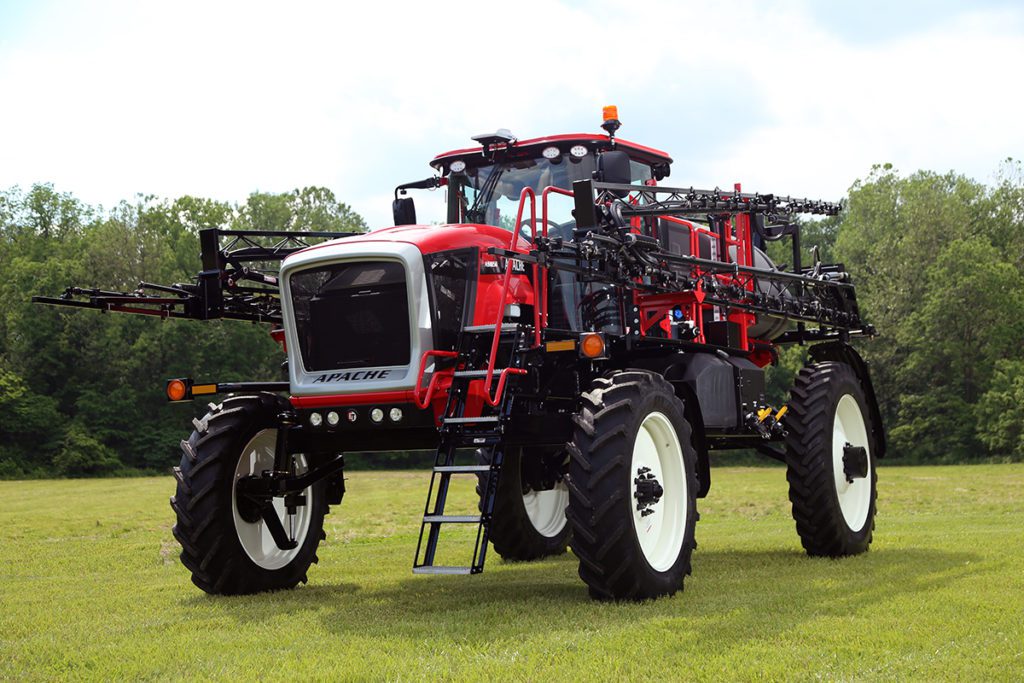 Product Tank Capacity: 1,000 gallons
Weight: 22,200 lbs
Engine: Cummins Performance Series V, 225 hp
Transmission: ZF power shift 6 speed
Crop Clearance: 42″ Standard or 50″ Optional
Power, performance and value- that is what you can expect from Apache Sprayers.

Equipment Technologies
MY2022 New AS1050 Product Enhancements
Improved Operator Ride
Enjoy a more comfortable ride. Our fluid-elastic active "Hydrocone" cab isolators from AMC Mecanocaucho improve the ride as much as 50% by better absorbing shock and displacement of the chassis.
Ease of Steering
Our new variable displacement load-sense piston pump provides the right amount of hydraulic flow at all speeds while reducing steering effort by as much as 20% for ease of steering at headlands, hills and tight corners.
Boom Recirculation
Helps in priming the boom before spraying, ensuring a precise and uniform spray pattern. It also reduces and/or eliminates product settling in boom pipes, enables accessible and complete cleanout of the booms, detects spray mode vs. recirculation mode automatically, and works with different precision options such as individual nozzle control, section control, etc. with built-in low-flow alert.
Request a free field demo and find out why EquipmentWATCH ranks Apache Sprayers Highest Retained Value in the industry, or determine the lifetime value of owning an Apache with our NEW total cost of ownership tool.
Our sprayers are reliable for many reasons, one being our lean manufacturing to build sprayers exactly the way you want them. That means we don't force you to pay for the things you don't want or need. Our "a la carte" menu gives you the freedom to choose upgrades, so your sprayer is customized for you and your operational needs.
Option

Description

Fence-Row Nozzles
These added nozzles are great for keeping fence lines and
outer edges of fields clean. The extra nozzle can be added to the left or right side of the boom, or both.
3-Inch Product Fill
Fill up faster thanks to the upgraded 3-inch diameter
product fill connection.
Hypro® Cleanload™
The Hypro Cleanload is a self contained eductor system that allows operators to mix liquid and dry chemicals safely and quickly.
Fenders
If you want mud splash-back protection, fenders are a great option to help keep things clean and prevent dust and mud clogs. Available in the front, rear, or a combination of each.
Enhanced Lighting Package
Our optional LED lighting package produces more light, while consuming less energy. This lighting package features 64 LED bulbs, located above the grille and cab and next to the fill station. The lights are situated to reduce bounceback reflection. LED bulbs have an average lifespan of tens of thousands of hours
Power Mirrors
Operators have the option of adjusting the single power side mirror attached to the cab from within the cab.
AS1050 Virtual Tour
Schedule your FREE Apache field demo and get a no-obligation sales quote.

Want more information?
Want more? Download the full spec sheet.