Apache Sprayers HS1100
Engineered for those seeking performance, maximum crop clearance, ease of use, and flexibility–all with an industry-leading 5-year warranty. The all-new HS 1100 high clearance sprayer is equipped with a 60″-70″ crop clearance that adjusts hydraulically with a push of a button. And the impressive 300 horsepower Cummins engine, and 1,120-gallon spray tank is ideal for large acreage growers.
Apache HS1100 Hydrostatic Sprayer features four-wheel steering and slope compensation with back axle correction for better control on hills and headlands. And the crab steer mode allows for enhanced mobility in tight places.
Ready to experience the Apache difference?
Request a FREE sales quote and find out why EquipmentWATCH ranks Apache Sprayers Highest Retained Value in the industry.
Features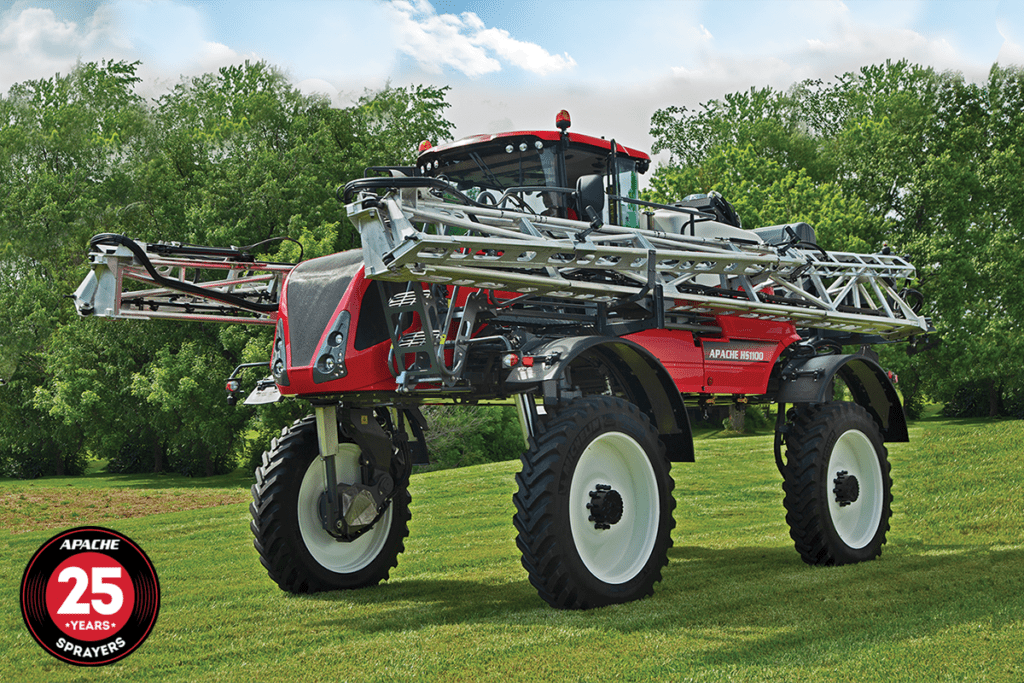 Product Tank Capacity: 1,120 gallons
Weight: 28,225 lbs
Rated Horsepower: 300HP
Engine: Cummins T4F
Transmission: Rexroth Hydrostatic
Crop Clearance: 60″-70″ hydraulic adjustable
Four-Wheel Steer: Slope compensation and back axle correction.
Crab-Steer: Enhanced mobility in tight places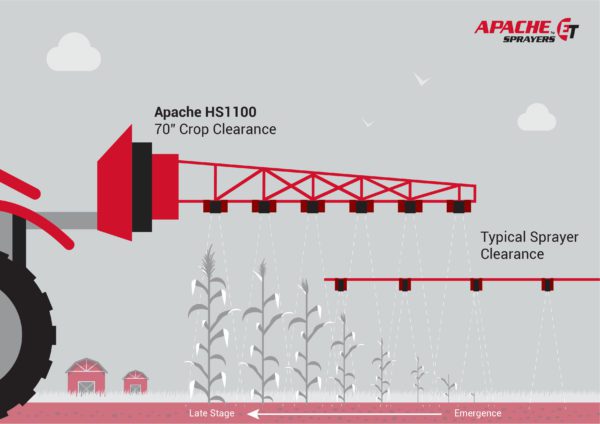 Ideal for late-season applications, the Apache HS1100 Hydrostatic Sprayer adjusts automatically with a push of a button from 60 to 70 inches for maximum crop clearance.

Conquer late-season spraying application with Apache HS1100.
Additional Standard Features
Fenders
Our fenders to help keep things clean and prevent dust and mud clogs. Available in the front, rear, or a combination of each.
Enhanced Lighting Package
Our LED lighting package produces more light, while consuming less energy. This lighting package features 64 LED bulbs, located above the grille and cab and next to the fill station. The lights are situated to reduce bounceback reflection. LED bulbs have an average lifespan of tens of thousands of hours.
NEW MY2022 – New Operator Console
The new modern operator interface is designed with the best ergonomic comfort in mind by utilizing the common joystick, display, digital keypad and buttons offering similar style and ease of operation of proven Apache models.
The streamlined control system for HS1100 brings together the proven Bosch hydrostatic controllers with Apache-proven ACTIA and Raven boom control system components for superior control of drive train, boom and auxiliary functions for ease of operation and in-field service.
Request a free field demo and find out why EquipmentWATCH ranks Apache Sprayers Highest Retained Value in the industry, or determine the lifetime value of owning an Apache with our NEW total cost of ownership tool.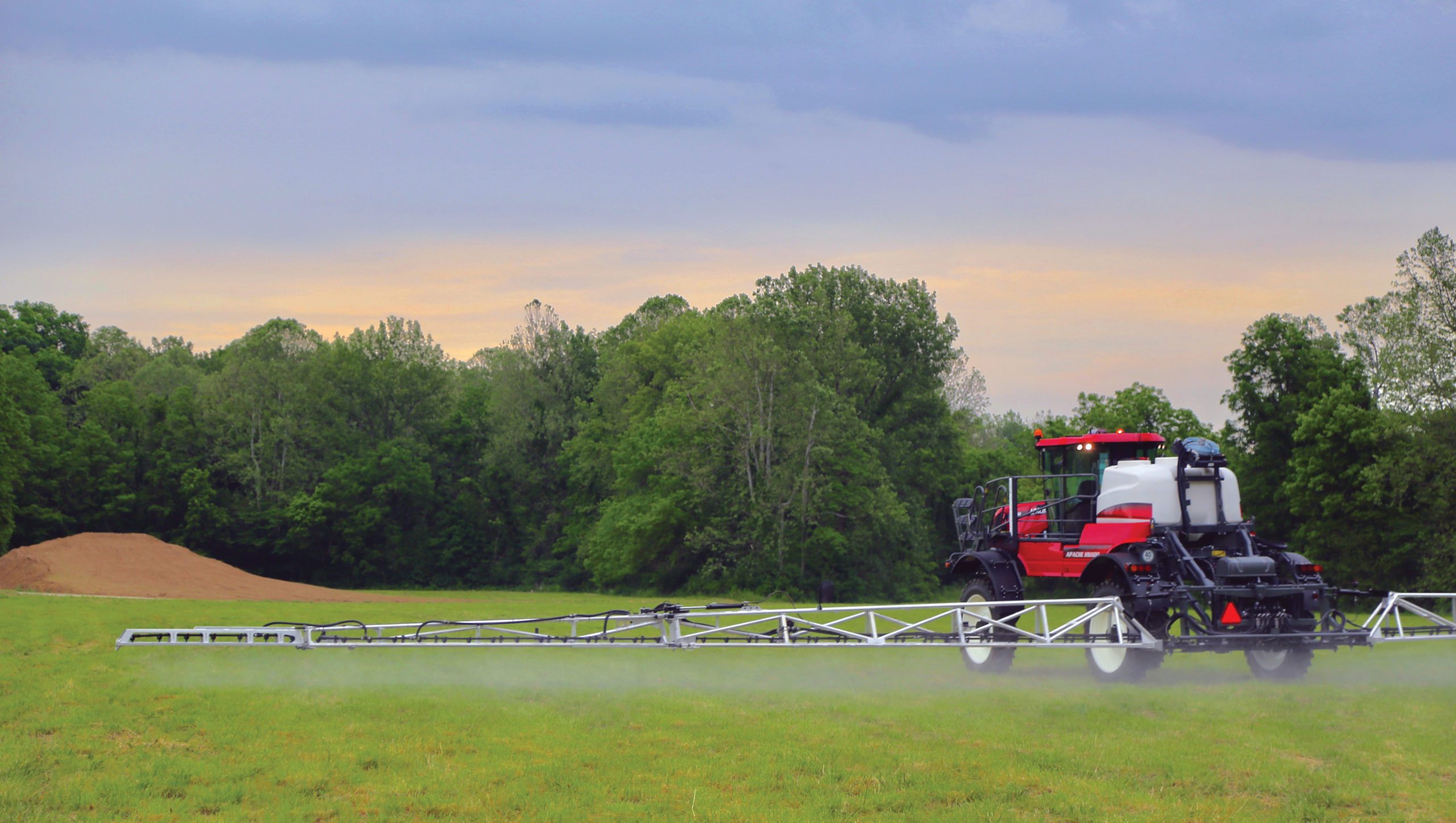 Our sprayers are reliable for many reasons, one being our lean manufacturing to build sprayers exactly the way you want them. That means we don't force you to pay for the things you don't want or need. Our "a la carte" menu gives you the freedom to choose upgrades, so your sprayer is customized for you and your operational needs.

Option

Description

Fence-Row Nozzles
These added nozzles are great for keeping fence lines and
outer edges of fields clean. The extra nozzle can be added to the left or right side of the boom, or both.
3-Inch Product Fill
Fill up faster thanks to the upgraded 3-inch diameter
product fill connection.
Ready to experience the Apache difference?
Schedule your FREE Apache field demo and get a no-obligation sales quote.
Want more information?
Want more? Download the spec sheet.