Speed, rough terrain, immovable objects—bring it on! Apache Sprayers New Model Year 2023 features ALL-NEW steel booms with a common center rack, to conquer the toughest field conditions.
New Steel Boom Wings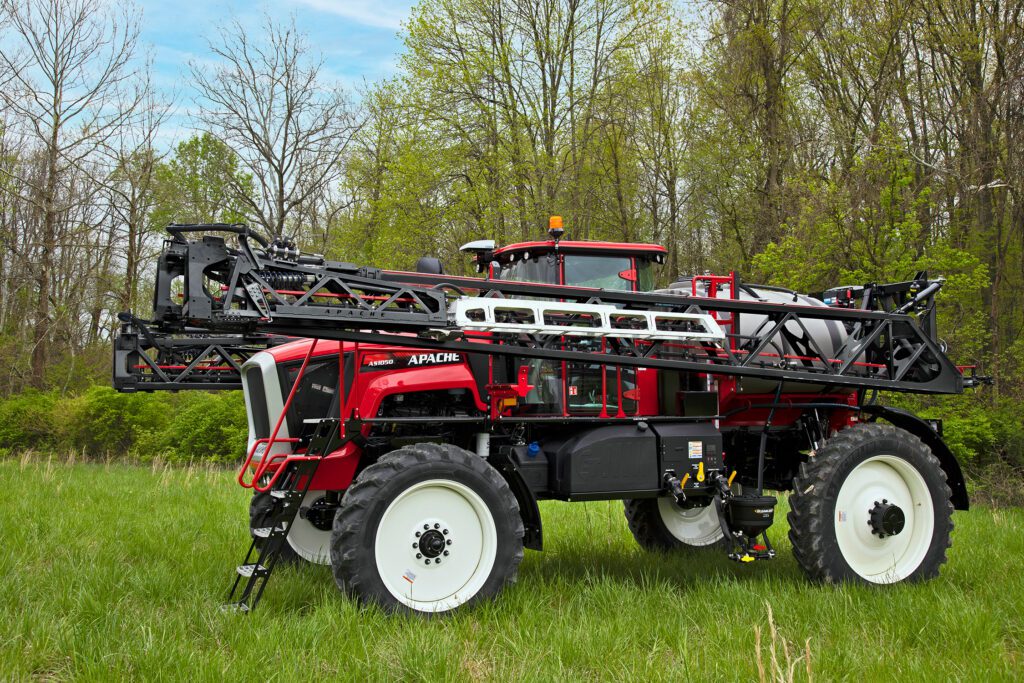 Introducing Apache Sprayers' all-new steel booms with mid-boom breakaway tips, available in 60/90 or 60/100 configurations.
Structurally designed to withstand the demands of tough operating environments our new steel booms feature a unique mid-boom breakaway.
New Common Boom Rack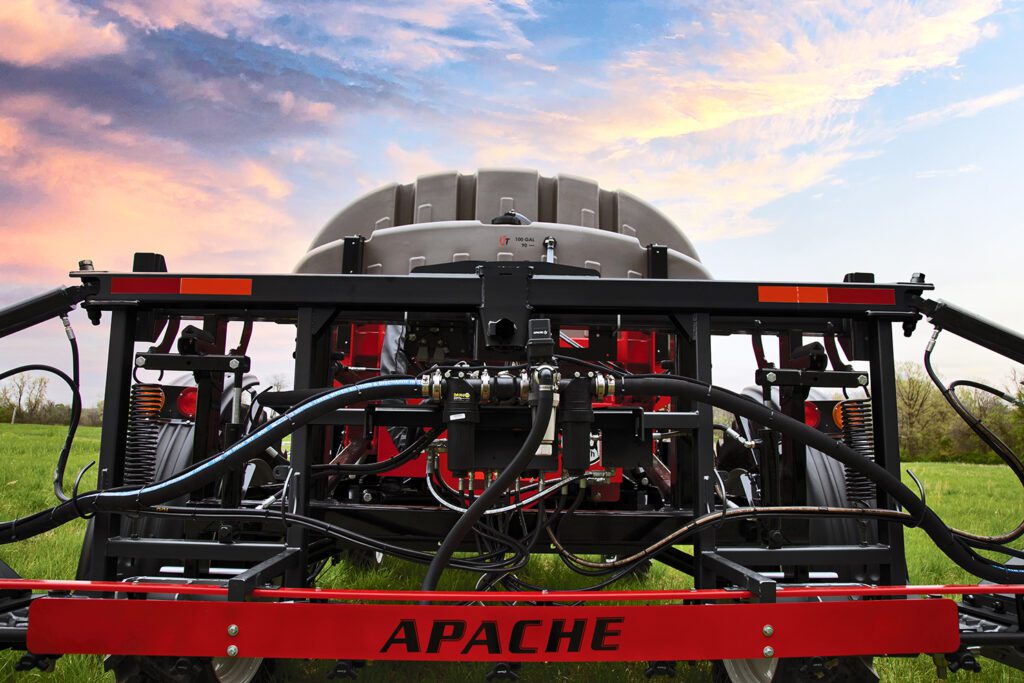 Prevents boom strikes and improves operator ride. Controlled testing achieved a 100% reduction in ground strikes vs. the previous rack design.
Adjustable hydraulic cylinder dampeners tailored for local conditions.
Compatible with our boom leveling options.
Mid Boom Breakaway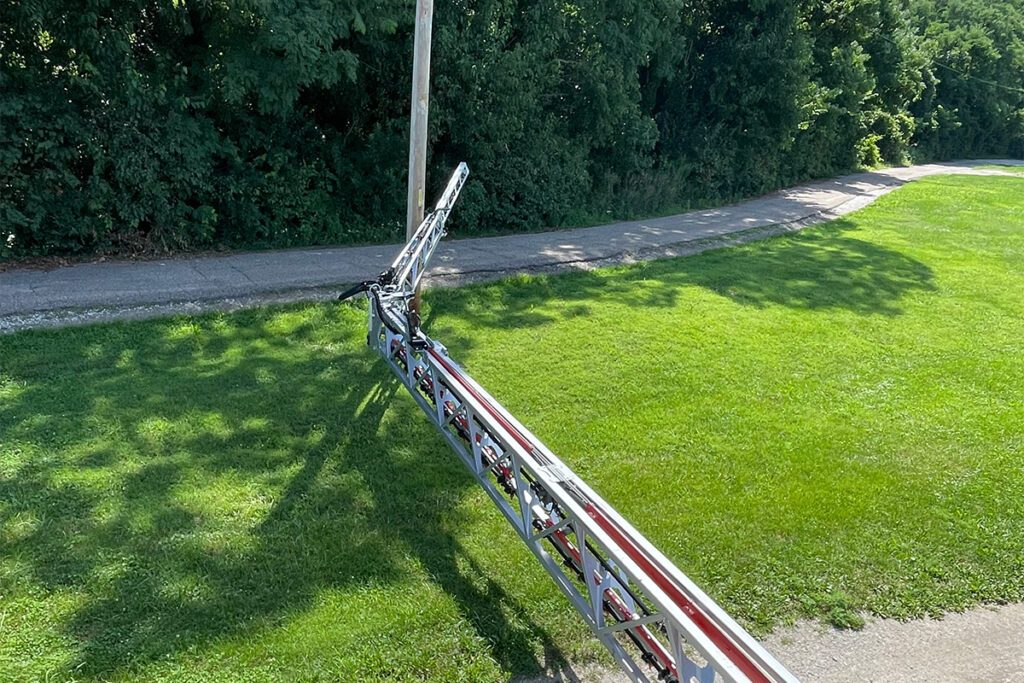 The main steel boom structure is designed to last the life of the machine.
Sensible and effective wear components simply bolt on and are easily replaced when needed.
Our multi-point boom breakaway system includes a three-axis (forward, backward, and up), self-resetting system and is completely maintenance-free.
New Rack Suspension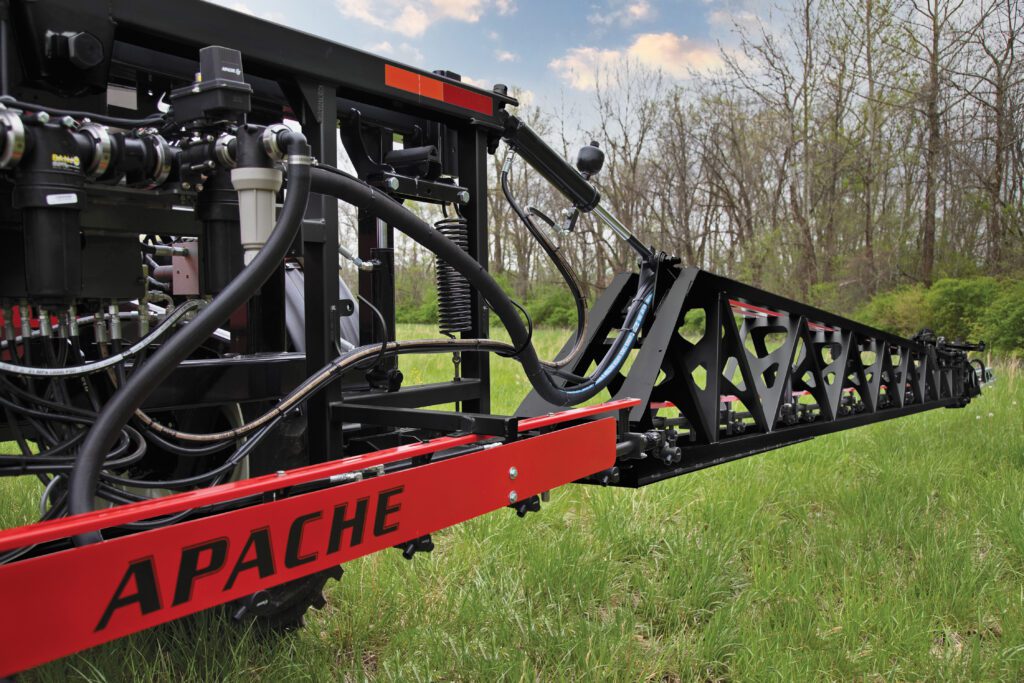 Center pivoting and self-balancing, our new rack suspension features coil springs with adjustable hydraulic cylinder dampeners that infinitely adjust to local conditions.
Why does this matter? Simply put, it isolates the roll of the chassis from the roll of the boom keeping your tips out of the dirt.
Plus, it provides an improved operator ride without the need for complicated and expensive electronics.
---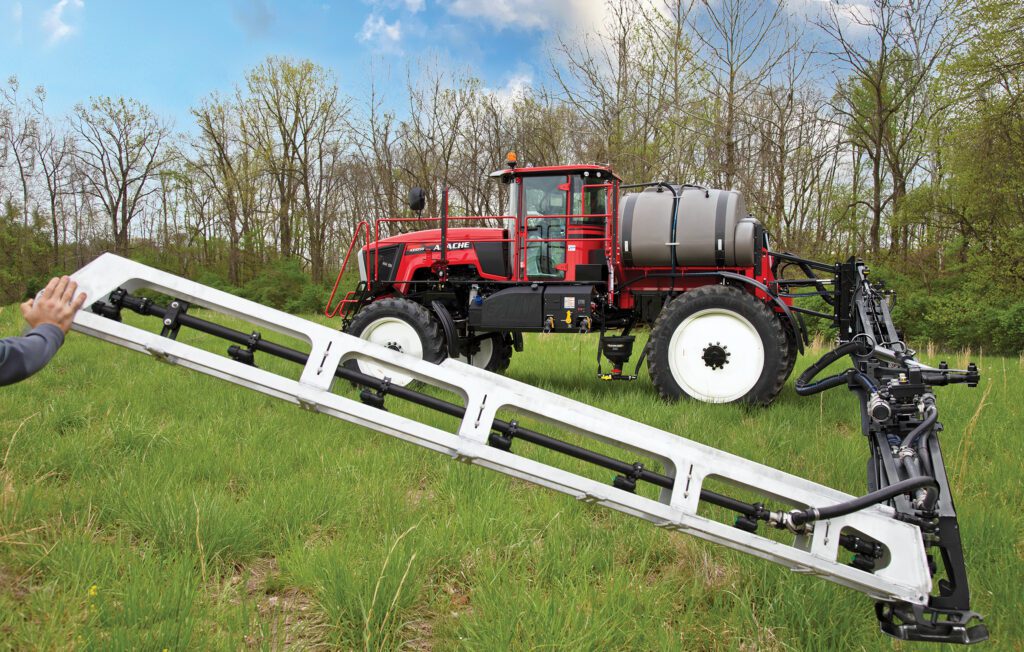 Apache Sprayers + Ag Solutions Group
We'll show you how to reduce input costs, increase crop yields and generate impressive ROI with the 2023 Apache Sprayers line up.
---
What do our customers say about Apache Sprayers?
I've been an Apache owner for over 20 years and on my third model. Absolutely satisfied with all aspects of the machine. My dealer provides super service and parts.

CHRISTOPHER KIMINER, APACHE SPRAYER OWNER FROM MICHIGAN
Having my own sprayer allows me to apply when I need to and when I want to. It saves me a lot of money.

TOM LINTHICUM, APACHE SPRAYER OWNER FROM MARYLAND
Apache sprayers are a very simple and a cost effective way to cover a lot of acres. Any issue I've ever had with my sprayer has been fixed easily or updated to the newest part.

JUSTIN SCHWIETERMAN, APACHE SPRAYER OWNER FROM INDIANA
We've been running Apache Sprayers since 2001 and it's our favorite machine. The Apache's controls are simple and intuitive and the mechanical drive has a very low maintenance cost and operational cost. They do the job and don't break the bank getting it done.

JIM LATRACE, APACHE SPRAYER OWNER FROM SASKATCHEWAN, CANADA
---
Bet Your Boom Can't Do This!
Speed, tough terrain, and fixed obstructions. Bring it on!
Conquer the toughest terrain, speed, and obstacles.
---
Meet the 2023 Apache Sprayers
AS650 Sprayer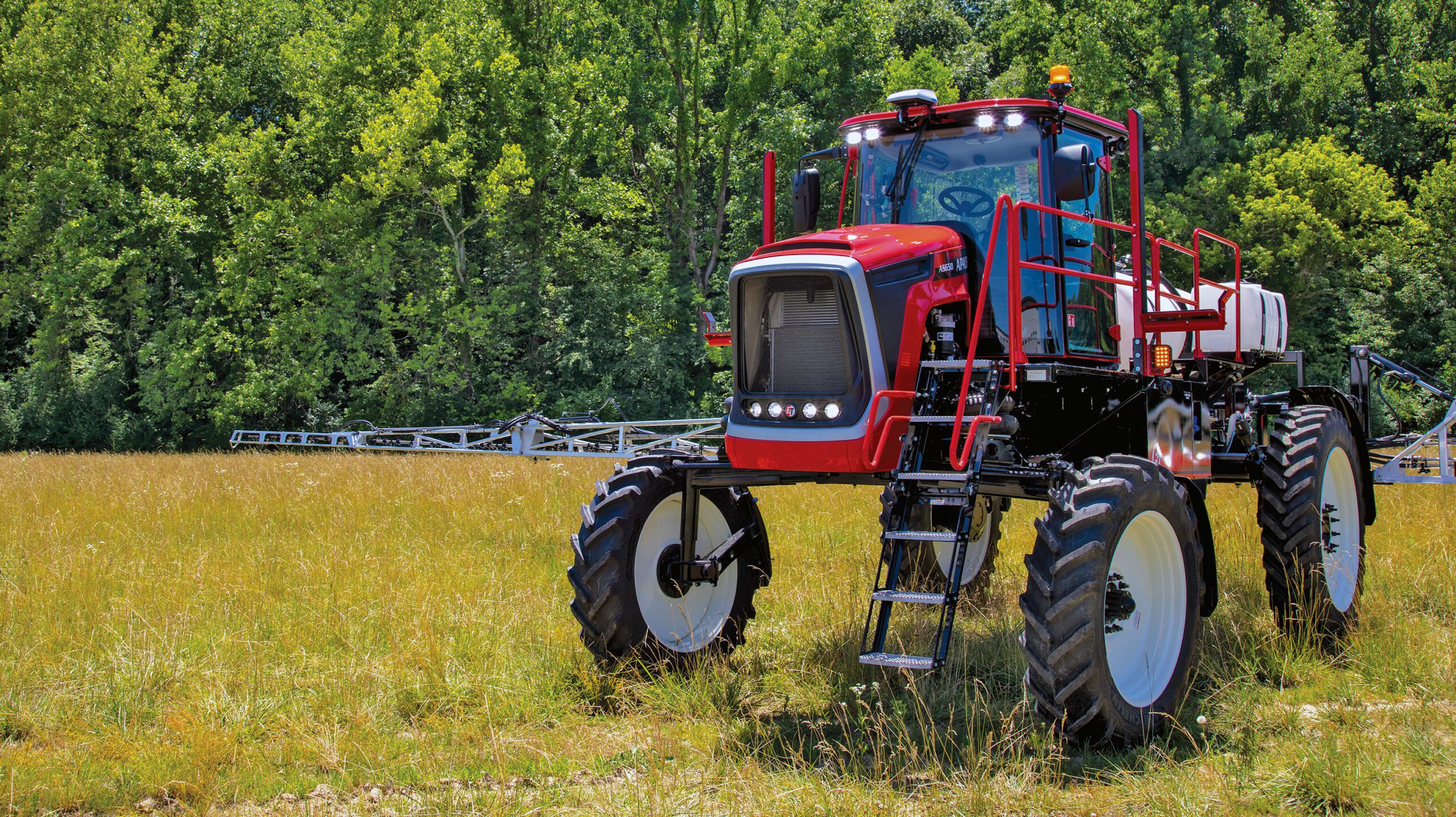 The Apache AS650 is the lightest, most affordable self-propelled sprayer in the industry. It's built for
the producer who wants to upgrade from a pull-behind to a self-propelled, or for the larger producer that needs an additional agile sprayer.
Tank Capacity: 650 gal Weight: 16,900 lbs
Crop Clearance: 42″ or 48″ based on tire selection
Engine: Cummins Tier 4 Final, 163 hp (rated)
AS850 Sprayer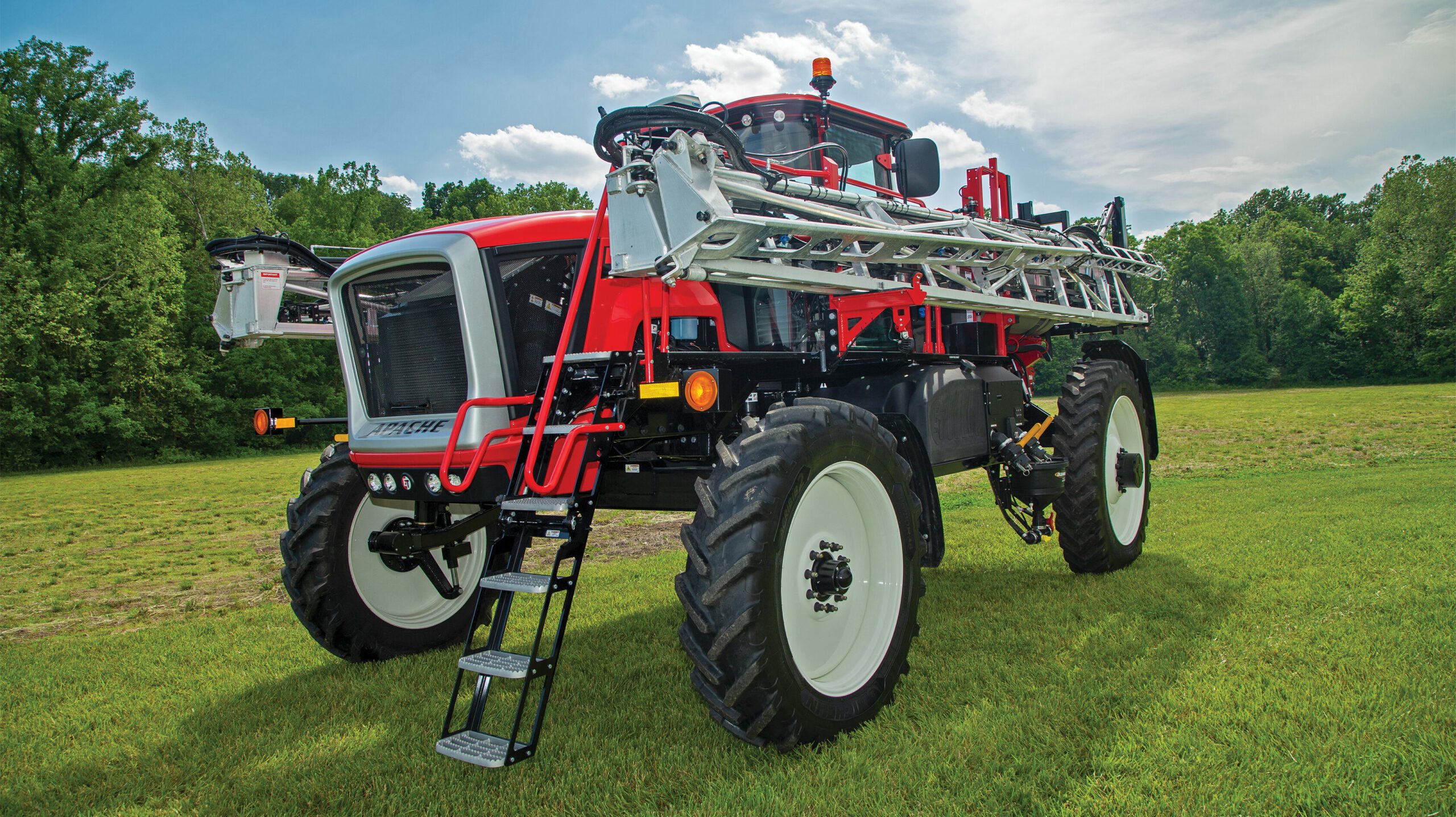 The Apache AS850 is perfect for the farmer looking for do-it-yourself control. Featuring an 800-gallon tank, the AS850 can work in challenging field conditions competitive sprayers cannot.
Tank Capacity: 800 gal Weight: 20,300 lbs
Crop Clearance: 42″ with 18″ drop box all-gear final drives
Engine: Cummins Performance Series V, 200 hp (rated)
AS1050 Sprayer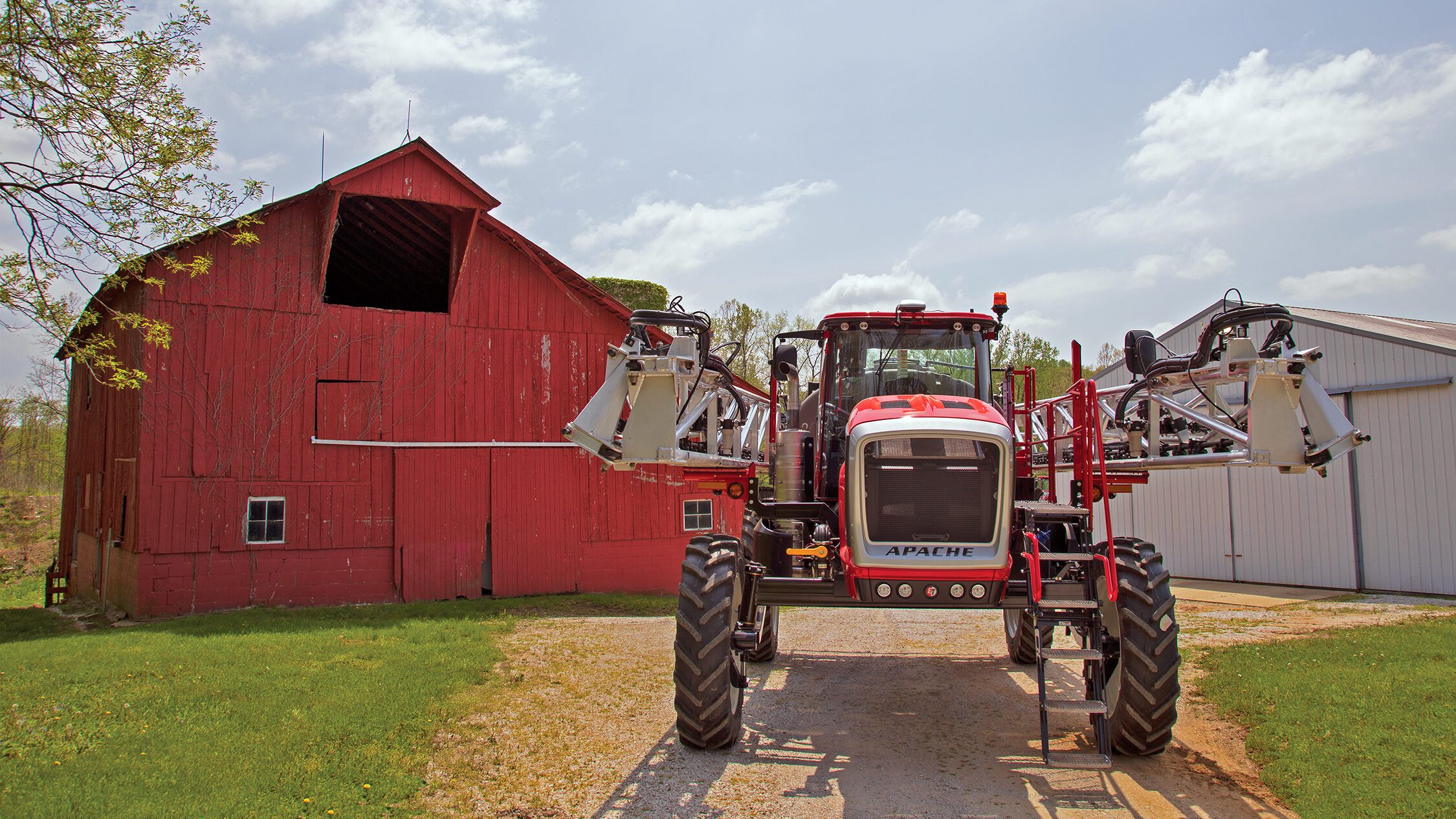 With a 1,000-gallon capacity tank, the versatile Apache AS1050 Sprayer includes boom and precision options to fit any operation. The product tank is large enough to cover acres, yet light enough to spray in challenging conditions.
Tank Capacity: 1,000 gal Weight: 21,500 lbs
Crop Clearance: 42″ with JCB planetary final drive or 50″ with 18″ drop box all-gear final drives
Engine: Cummins Performance Series V, 225 hp (rated)
AS1250 / AS1250XP Sprayers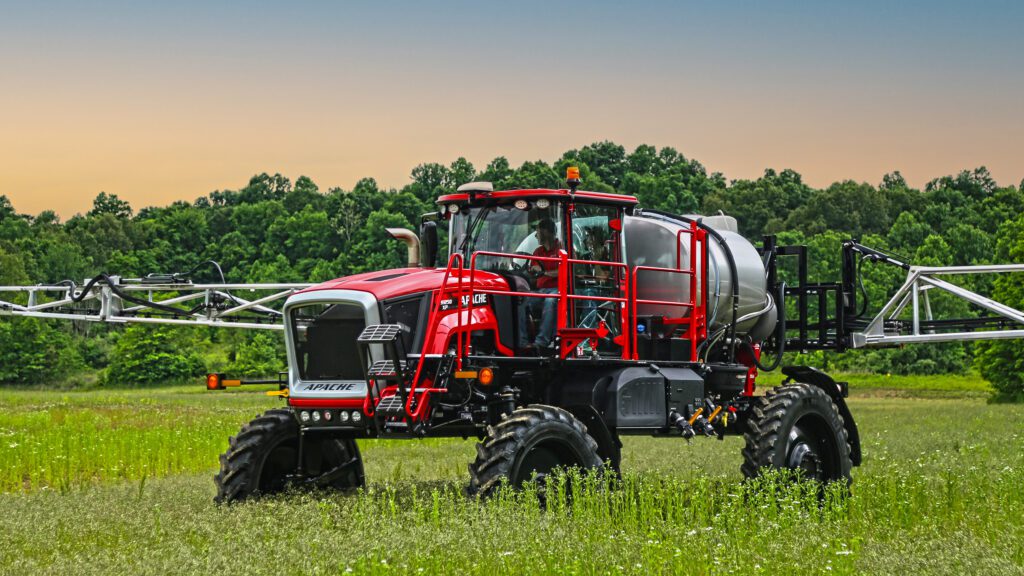 The Apache AS1250 and AS1250XP are the largest sprayers in the AS family and are adaptable to meet all your spraying needs.
Tank Capacity: 1,200 gal Weight: 22,500 lbs
Crop Clearance: 50″ with 18″ drop box all-gear final drives.
Engine: Cummins Performance Series V, 260 hp (rated)
Cummins Performance Series V, 300 hp (rated)
HS1100 Hydrostatic Sprayer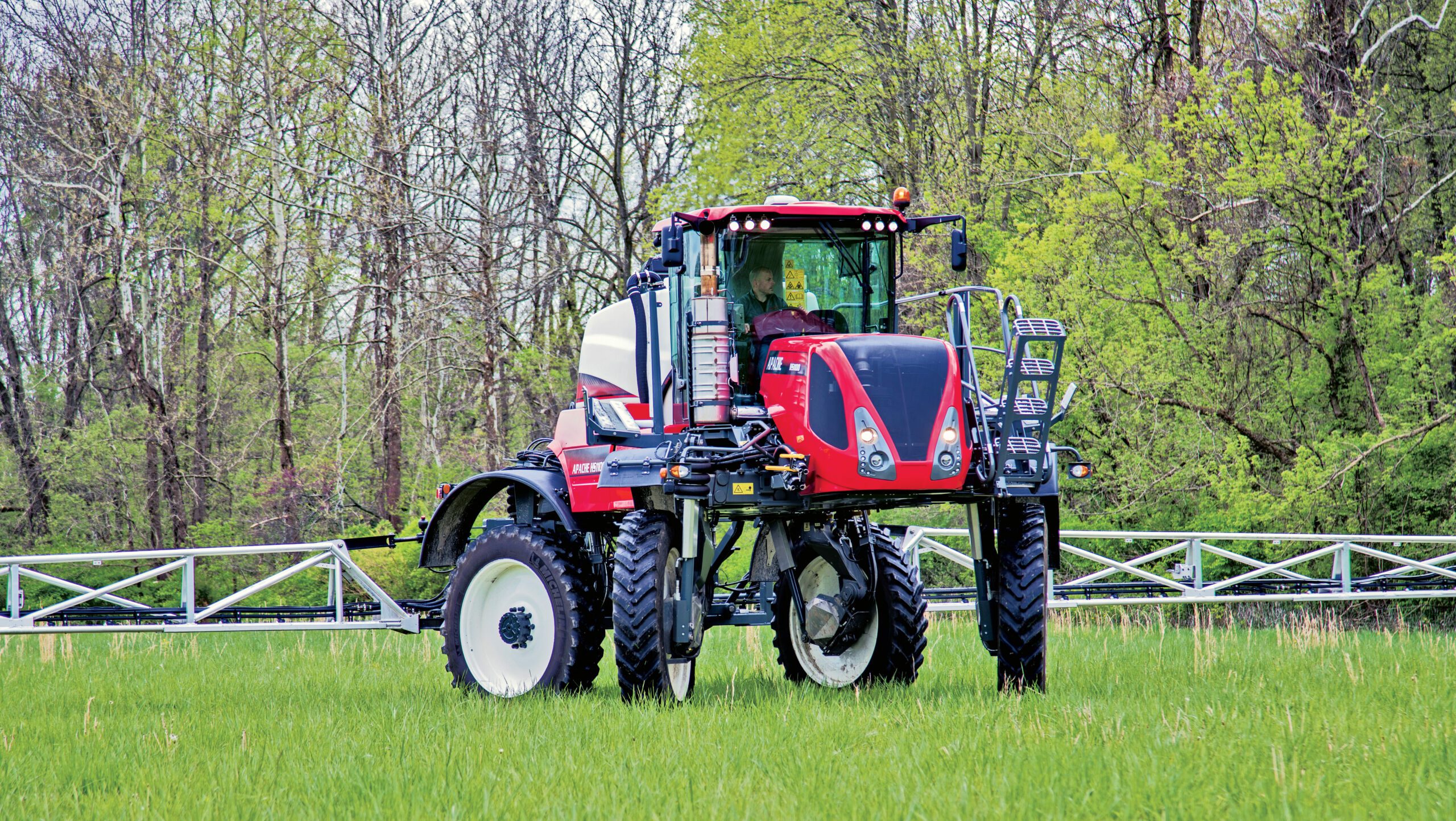 60" crop clearance for most applications. Adjust to 70" for late season needs.
Tank Capacity: 1,120 gal Weight: 28,225 lbs
Crop Clearance: 60″ to 70″ adjustable on-the-go
Engine: Cummins 6.7L 300 hp (rated)
---
Here is a list of more reasons why an Apache Sprayer is perfect for a grower like you:
Customizability: Power rated from from 163 HP to 300 HP, multiple tire choices

.

Built for challenging soil conditions: Made with precision technology so you can spray on any terrain

.

Reliable mechanical drive: Reduced downtime during crucial spray periods

.

Optimal power-to-weight ratio: 90% horsepower gets transferred to the ground

.

Boom recirculation, a new feature: Gives your sprayer a precise, uniform spray pattern

.

Road speed: Travel quicker between farms. Cover more ground in smaller spraying windows

.

Improved comfort: Enjoy a smoother, quieter ride

.

Industry-best warranty: Every Apache off the assembly line comes with a five-year limited warranty

.

Proven value: The only 4-time winner of the "Highest Retained Value" award by EquipmentWatch™

.
---
Conquer the toughest terrain, speed, and obstacles. Show me how!