May 2, 2017 (Mooresville, Indiana) – Equipment Technologies (ET) is excited to announce new efforts to expand Apache Sprayer dealerships throughout North America with the help of Jim Bates. Bates is well known within the company as one of the first employees and founders of Equipment Technologies. His early work at ET was incredibly important to the company's success.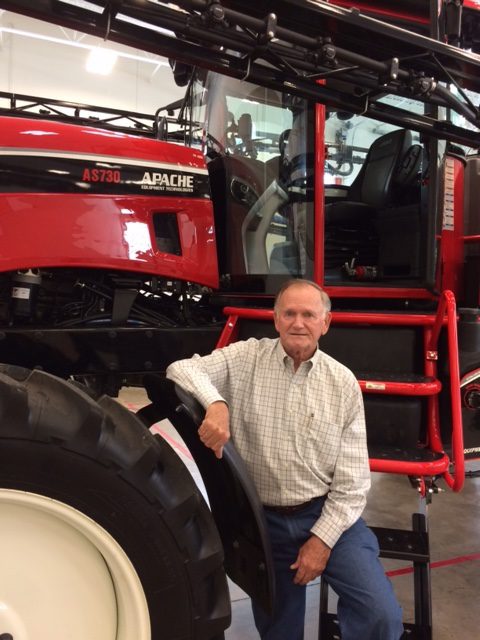 Bates previously served as Vice President of Sales and Marketing for several years and was responsible for finding and bringing on board many of the Apache's most successful independent dealers in North America.
"We knew Jim would be a great asset in expanding our reach across North America because he set up most of the dealers we have now," said Equipment Technologies CEO, Matt Hays. "He will take this new challenge and run with it as he has in previous roles. We can always count on him to get the message across — he's one of our biggest advocates."
Bates' new role will be very familiar as he established much of the Apache export business as well, in countries such as Canada, Ukraine, Russia and Australia as the Export Manager for Equipment Technologies.
"I just love to sell Apaches," Bates said. "I think I'll probably start out in the southeastern United States in the Georgia, Alabama and Florida areas. I'll work with Apache Territory Managers to set up lists of potential contacts and we will work together to bring a few more qualified dealers into the fold."
Bates said other states on his list are Minnesota, Pennsylvania, New York and Texas, but there's no territory that's off limits.
"The one word I emphasize when I'm talking to potential new Apache dealers is simplicity," Bates said. "We all talk about it — simplicity sells Apache Sprayers. But it's important to tell them the Apache story before they can understand the full concept of just how simple these machines are and that is just what I aim to do."
Any interested parties who wish to learn more about becoming an Apache Dealer are encouraged to contact Jim Bates directly for more information at Jim.Bates@etsprayers.com.
---
Equipment Technologies:
Equipment Technologies is a manufacturer of self-propelled and mechanical drive sprayers. Headquartered in Mooresville, Indiana, Equipment Technologies creates Apache Sprayers and Bruin Sprayers for distribution throughout the United States, Canada, Australia and C.I.S. Learn more about Apache Sprayers at www.ApacheSprayers.com and Bruin Sprayers at www.BruinSprayers.com.
Media Contact:
Jessica Held
Lessing-Flynn
Des Moines, Iowa
jess@lessingflynn.com
515-274-9271