Here are few reasons why these sprayers are perfect for wheat growers like you in Kentucky: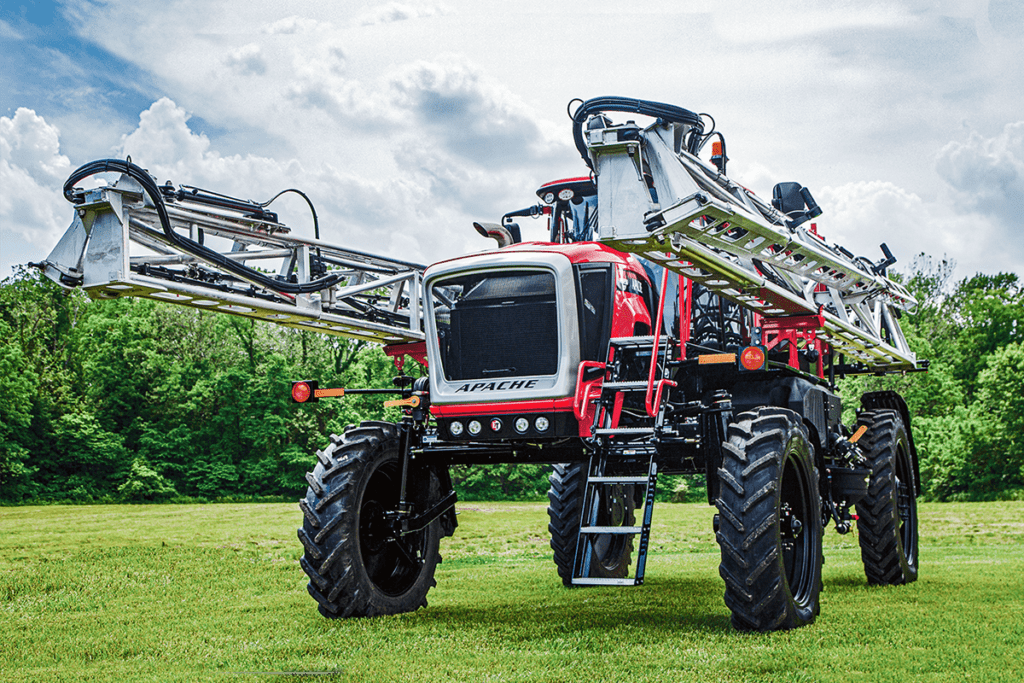 Cut Down on Soil Compaction: Each Apache Sprayer is made lightweight to reduce soil compaction.
Larger Booms = Less Compaction: Cover more ground with less tracks in field.
Pommier Aluminum Booms: Wider, stronger & lighter than big steel booms. Available in 100′, 120′ and 132′ width options.
Top Road Speed of 35 mph: Our sprayers are faster than tractors and pull-type sprayers, allowing you to cover more ground in small spraying windows.
Better Ergonomics & Comfort: Enjoy a smoother, quieter ride.
Industry-Best Warranty: Every Apache that rolls off the assembly line comes with a five-year limited warranty.
Award-Winning Sprayers: The only 4-time winner of the "Highest Retained Value" award by EquipmentWatch™.
---
Want to know more? Simply fill out the form and we will contact you.
"*" indicates required fields
---
Apache Sprayers are simple, durable and deliver the highest return on investment. Don't just take our word for it. Apache Sprayers owners say it best:
I've been an Apache owner for over 20 years and on my third model. Absolutely satisfied with all aspects of the machine. My dealer provides super service and parts.

CHRISTOPHER KIMINER
We've been running Apache Sprayers since 2001 and it's our favorite machine. The Apache's controls are simple and intuitive and the mechanical drive has a very low maintenance cost and operational cost. They do the job and don't break the bank getting it done.

JIM LATRACE
Apache sprayers are a very simple and a cost effective way to cover a lot of acres. Any issue I've ever had with my sprayer has been fixed easily or updated to the newest part.

JUSTIN SCHWIETERMAN
---
Meet the Sprayer lineup
AS650 Sprayer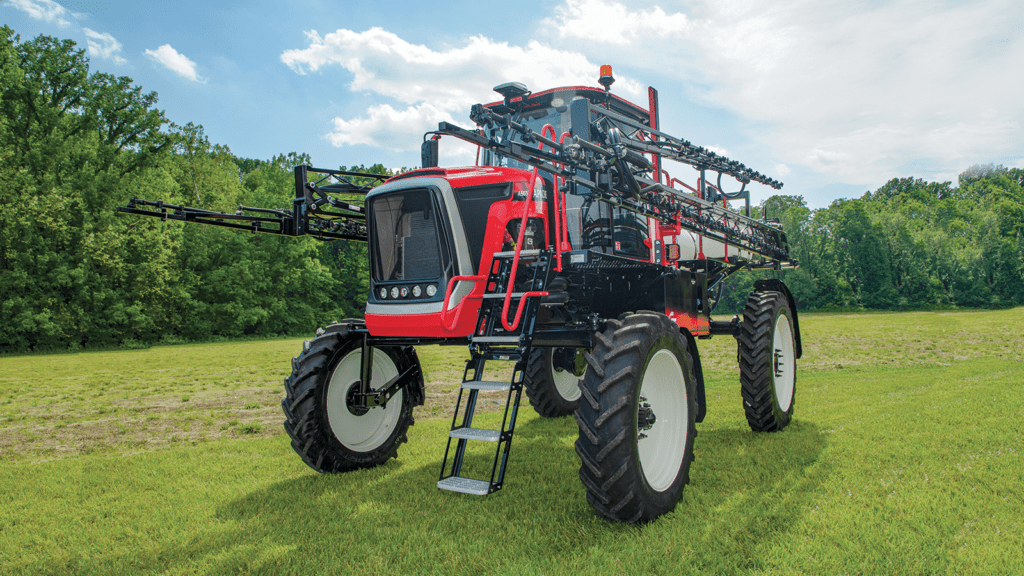 The Apache AS650 is the lightest, most affordable self-propelled sprayer in the industry. It's built for
the producer who wants to upgrade from a pull-behind to a self-propelled, or for the larger producer that needs an additional agile sprayer.
Tank Capacity: 650 gal Weight: 16,900 lbs
Crop Clearance: 42″ or 48″ based on tire selection
Engine: Cummins Tier 4 Final, 163 hp (rated)
AS850 Sprayer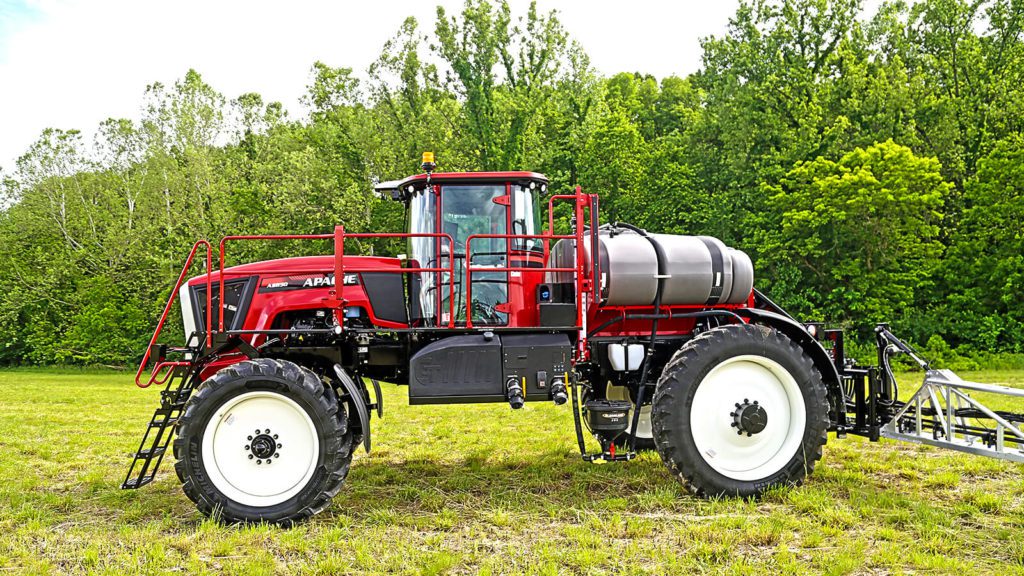 The Apache AS850 is perfect for the farmer looking for do-it-yourself control. Featuring an 800-gallon tank, the AS850 can work in challenging field conditions competitive sprayers cannot.
Tank Capacity: 800 gal Weight: 20,300 lbs
Crop Clearance: 42″ with 18″ drop box all-gear final drives
Engine: Cummins Performance Series V, 200 hp (rated)
AS1050 Sprayer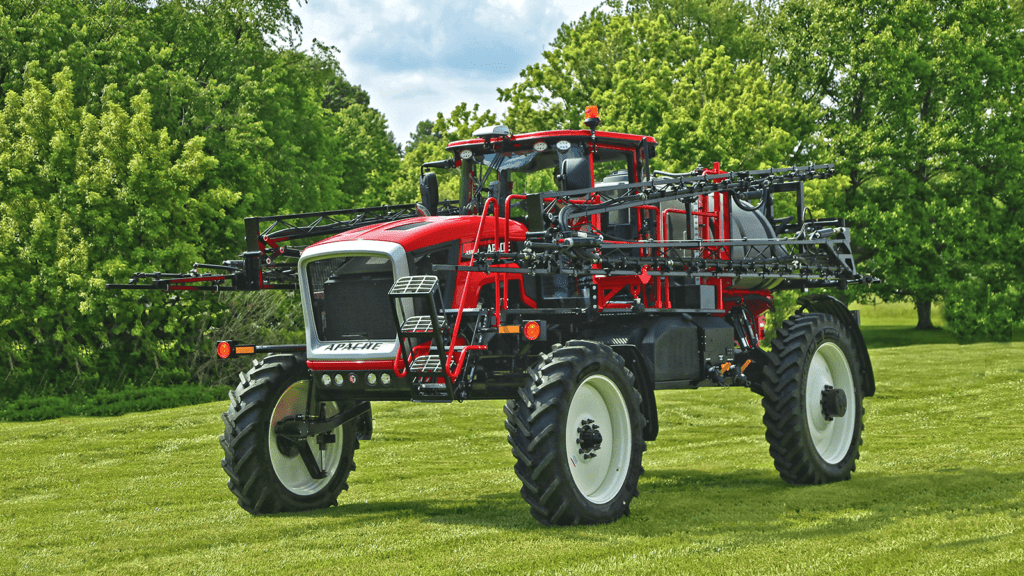 With a 1,000-gallon capacity tank, the versatile Apache AS1050 Sprayer includes boom and precision options to fit any operation. The product tank is large enough to cover acres, yet light enough to spray in challenging conditions.
Tank Capacity: 1,000 gal Weight: 21,500 lbs
Crop Clearance: 42″ with JCB planetary final drive or 50″ with 18″ drop box all-gear final drives
Engine: Cummins Performance Series V, 225 hp (rated)
AS1250 / AS1250XP Sprayers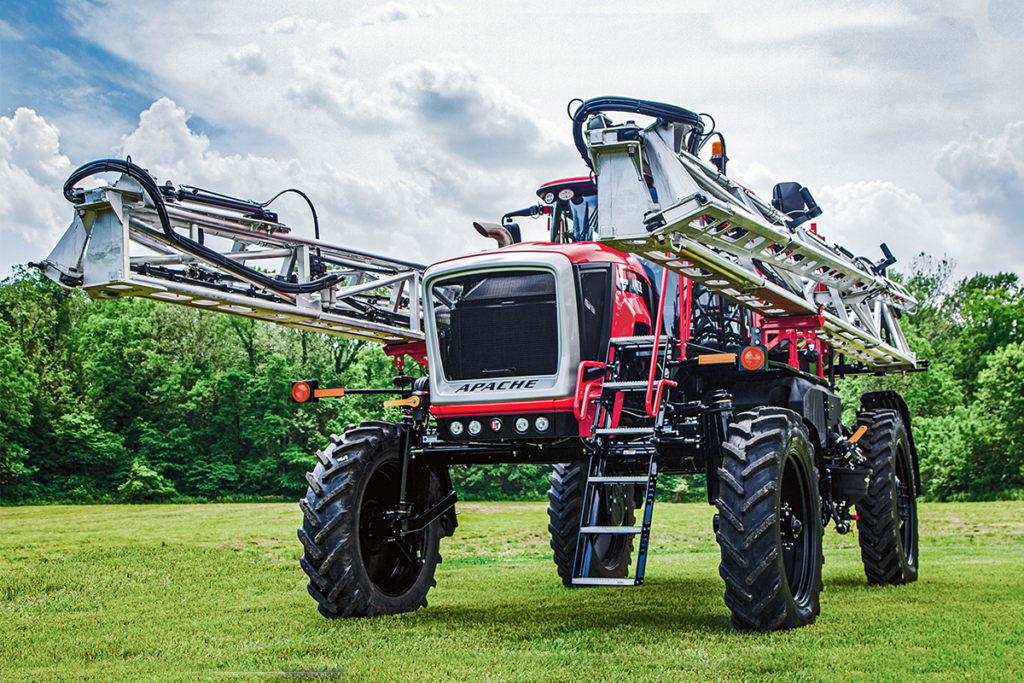 The Apache AS1250 and AS1250XP are the largest sprayers in the AS family, yet they weigh far less than the competition. The XP model features added horsepower and is adaptable to ensure it meets all of your spraying needs.
Tank Capacity: 1,200 gal Weight: 22,500 lbs
Crop Clearance: 50″ with 18″ drop box all-gear final drives.
Engine: Cummins Performance Series V, 260 hp (rated)
Cummins Performance Series V, 300 hp (rated)
HS1100 Hydrostatic Sprayer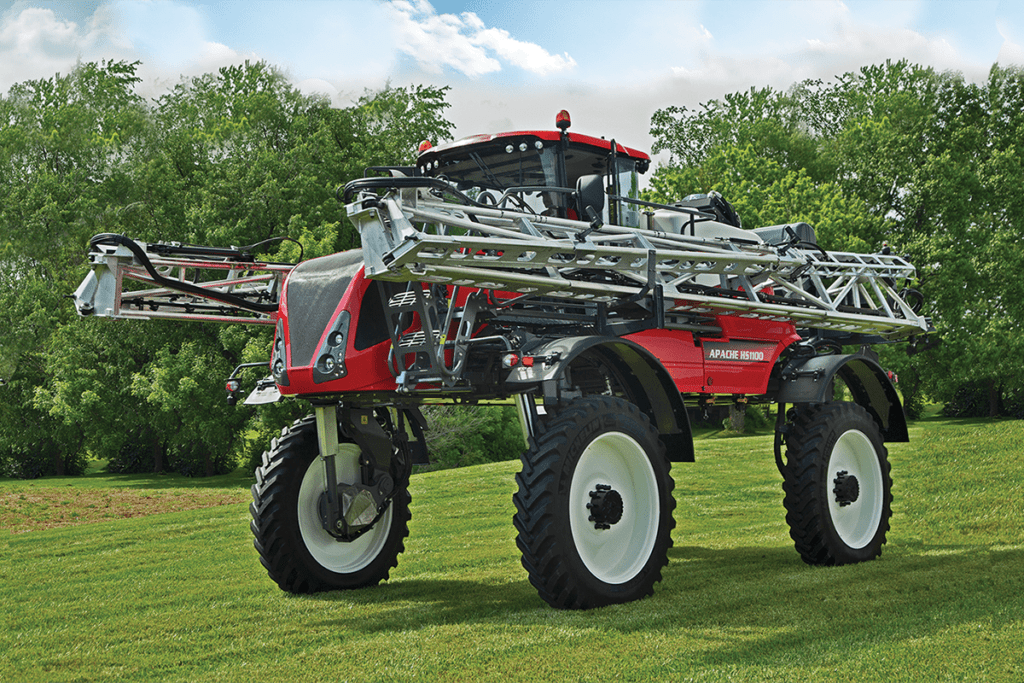 Conquer early and late season application with one sprayer. Our rear boom sprayer easily adjusts ground clearance from 60" – 70" with just the touch of a button.
Tank Capacity: 1,120 gal Weight: 28,225 lbs
Crop Clearance: 60″ to 70″ adjustable on-the-go
Engine: Cummins 6.7L 300 hp (rated)
---
MY2022 Enhancements for New AS850, AS1050, AS1250, AS1250XP and HS1100 Sprayers
Improved Operator ride
Enjoy a more comfortable ride. Our fluid-elastic active "Hydrocone" cab isolators from AMC Mecanocaucho improve the ride as much as 50% by better absorbing shock and displacement of the chassis.
Ease of Steering
Our new variable displacement load-sense piston pump provides the right amount of hydraulic flow at all speeds while reducing steering effort by as much as 20% for ease of steering at headlands, hills and tight corners.
Boom Recirculation
Helps in priming the boom before spraying, ensuring a precise and uniform spray pattern. It also reduces and/or eliminates product settling in boom pipes, enables accessible and complete cleanout of the booms.
---
Want to know more? Simply fill out the form and we will contact you.
"*" indicates required fields