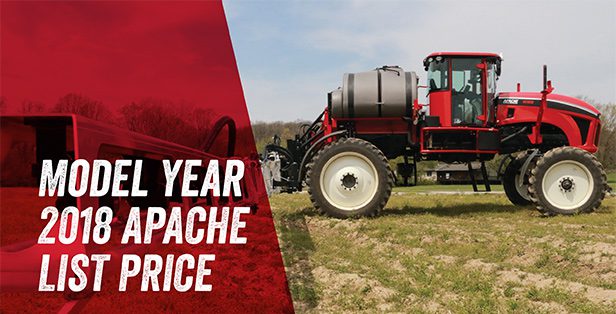 Purchasing farm equipment is a major investment. Apache Sprayers helps ease the pain on your pocketbook by starting at tens of thousands of dollars less than the competition. But don't be fooled—lower price doesn't mean lower quality. Apache is the best pound-for-pound sprayer on the planet. Owning one simply means you're getting more BOOM for your buck. So run the numbers—then run with us!
APACHE AND COMPETITOR COMPARISONS
List price is based on a sprayer with fenders, premium leather seat, 100 foot boom, Viper® 4, AccuBoom™, UltraGlide AutoBoom® and SmarTrax™ AutoSteer. Power-to-the-Ground™ HP per 1,000 lbs is calculated by: hp x efficiency ÷ weight x 1,000.



"It's phenomenal the return on investment it brings back. It's a hundred thousand dollars less than any other machine and we're pretty green around here. With this thing we were able to go brand new versus used with the green machine."
– Andy Smidt, Trumbull, NE (5,000 acres sprayed)
Equipment Technologies reserves the right to make changes in engineering, design and specifications; add improvements; or discontinue manufacturing at any time without notice or obligation. All brand or product names are or may be trademarks of, and are used to identify products and services of, their respective owners or its subsidiaries and divisions. in the U.S. and/or other countries. All specifications are subject to change without notice.