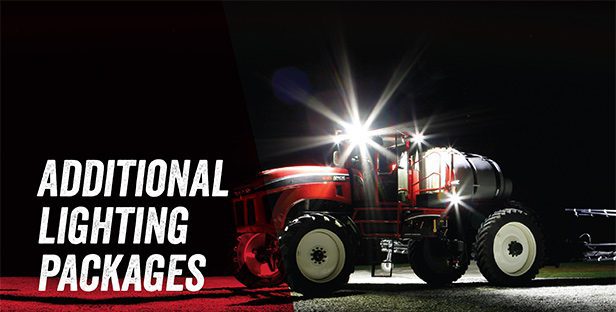 Weather-related planting delays can force you to burn the midnight oil in order to complete fieldwork—including chemical application. While spraying in the dark presents unique challenges, it can be just as effective as daytime application, assuming you have the right sprayer lighting package.
That's why Apache Sprayers are equipped with the brightest lights you didn't know you needed. Our optional LED lighting package produces more light than previous Apache models, while consuming less energy. Premium LEDs produce white light that reduces eye fatigue and operator stress. Proper boom illumination also enables you to see and monitor nozzles and spray patterns to ensure they are properly functioning from wing to wing. Rugged design withstands heavy vibration, corrosion, moisture and dust.
This lighting package features 64 LED bulbs, located above the grille and cab, and next to the fill station. The lights are situated to reduce bounce-back reflection. LED bulbs have an average lifespan of tens of thousands of hours.
Optional Lighting Package Includes:
12 aluminum housings
64 LED bulbs
Estimated bulb lifetime of 42,500 hours
Combination of long- and mid-range lenses for superior visibility
LED hazard, brake and turn signals for night driving (standard)
"This thing is lit up like a Christmas tree. The cab is good looking out. It's got the lights pointing out on the booms. It's no different than the day time, really. I mean you can just go right on and keep right on spraying." – Leon Green, Caneyville, KY