North America is dominated by John Deere, Case IH and Ag Co dealerships who usually represent only one brand of sprayer. As a result, Apache must develop other methods for distributing its sprayers. Many of our 40 dealers are retailers who specialize in providing application products and services and do not sell tractors or harvesters. Among these specialty retailers, ET Works owns 9 stores in 6 states under four different names.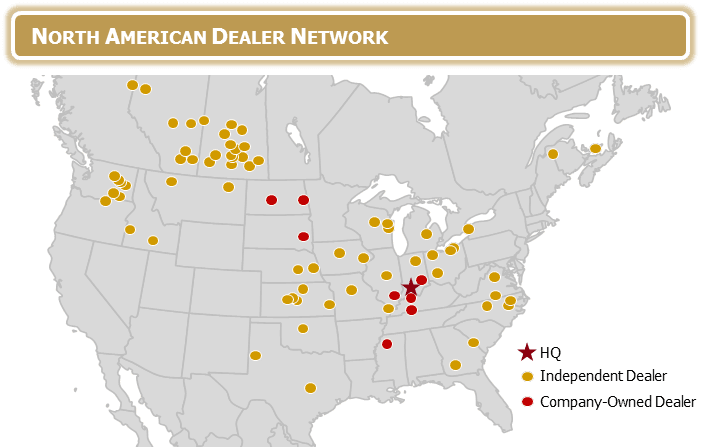 We established our first company owned dealerships in 2006. Our first store was in Decatur, Illinois and continues today as one of our main contributors. We have learned many important lessons with our company-owned dealerships, including some painful ones which we hope to not repeat (get the best people and make sure the goals are aligned!).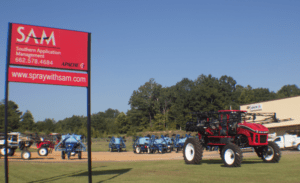 One of our company stores, Southern Application Management ("SAM"), opened in 2009 in Batesville, Mississippi to sell and service Apache sprayers in the states of Mississippi, Louisiana, Arkansas, and Tennessee. We have 7 employees located at the store. Management for sales and service is centralized at ET Works headquarters in Mooresville, Indiana.
The trade area offers many different crops, including cotton and peanuts, and resides mostly in a sub-tropical climate zone. Many farmers make ten to twelve applications with their sprayer (compared to average of three in most of North America). The versatility and unbeatable value proposition of the Apache has made it a big winner in a market with tremendous growth potential.
Nick Smith, SAM Commercial Director, says of our success "The key to gaining market share in our territory is being able to sell machines onto Mississippi Delta farm ground.  This is the best farm ground in the south and has been dominated by John Deere.  Our success falls inline directly with ET's philosophy: provide an excellent machine with a tremendous value proposition and relentlessly promote this to every new customer we come across.  Our customers who run John Deere equipment except for their sprayer are some of our best advocates.  They love the machine because of its simplicity to use, the comfort of the cab and the incredible value it brings to their bottom line".
Congratulations to the team at SAM for their great success and for receiving 2015 Apache Dealer of the Year.
SAM received 2015 Dealer of the Year award at our annual dealer meeting in Mooresville in June, 2016. SAM leads all of our dealers in Apache market share growth with a gain of 4.9 points in 2015 (and continued growth share so far in 2016)!