There are many quality oil brands on the market for use in farm machinery, but at ET Works we recommend Lucas Oil products. Our brand loyalty is founded on proven results. In 2008, we conducted product comparison tests to assess the quality of oils available for use in Apache sprayers. Multiple oil samples were sent out to a lab including: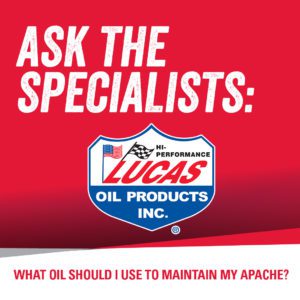 Hy-Gard Oil
Hy-Tran Oil
Rural King store-brand oil
Lucas Oil
Through our analysis, we found Lucas Oil products to be superior to the other brands. They were overall: better filtered, contained less water and demonstrated an overall longer life of use.
Our lab results indicated that Lucas Oil contained the least amount of water and debris when compared to oils offered by John Deere, Case IH and Rural King.
We value the reduced water in Lucas Oil because a higher water ratio is detrimental to our high-tech hydraulic system and can result in these parts working less efficiently. It can also cause oil sludge over time and lead to sticky valves that don't function properly. For example, many of our fold systems are set up with an electric spool valve and this sludge would prevent the valve from moving freely and easily. Too much water also tends to require more frequent oil changes, which costs more over time.
We also found greater potential for longer usage between oil changes with Lucas Oil. Due to our findings, we believe Lucas Oil products are the best choice for Apache Sprayers.