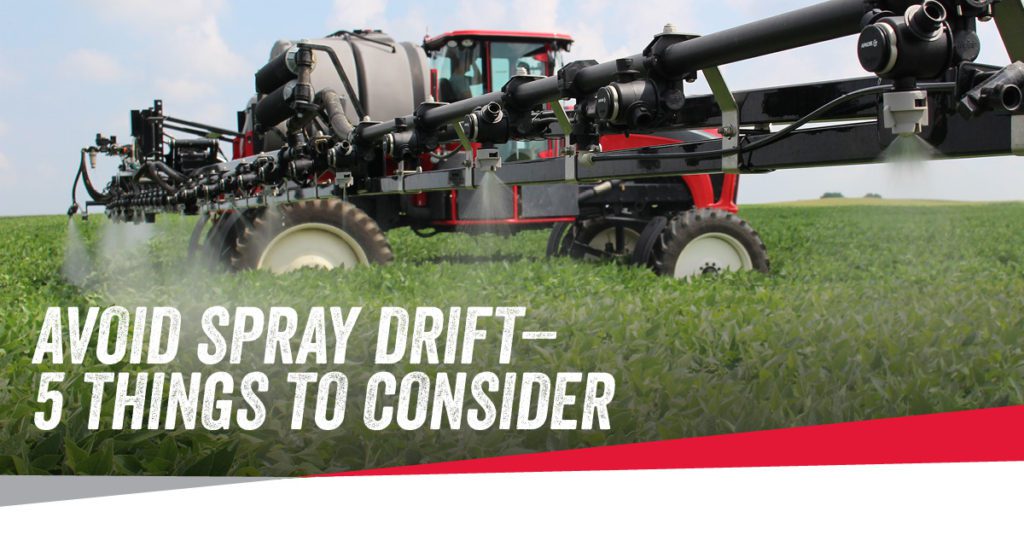 Avoiding spray drift to ensure a more efficient application is a constant battle — but it's a battle worth fighting. Controlling spray drift not only saves the environment, but your pocketbook too. After all, those plumes of wasted herbicide bring more problems than increased input costs including government fines and crop damage.
"Spray drift needs to be minimized to avoid any crop injury and adverse effects on areas outside the spray target area," said Dallas Peterson, Department of Agronomy professor at Kansas State University. "Minimizing spray drift is not only important from an economic and legal standpoint, but also from a public relations standpoint."
To get the most out of your applications this spring, here are five tips to help lower your risk of spray drift:
1. SELECT THE RIGHT NOZZLE FOR YOUR APPLICATION
One of the most important tips includes choosing the right nozzle based on your application, rate of application and speed. Refer to your spray nozzle's manufacturer chart to help with the selection and read the label of each chemical to learn proper resistance specifications.
(To learn more about selecting the best nozzle for your application, refer to our white paper, Make Your Application Count: Sprayer Nozzle Selection.)
2. USE AN APPROPRIATE AMOUNT OF PRESSURE FOR YOUR NOZZLE SELECTION
The smaller the droplet, the greater odds of creating drift. In addition, smaller droplets are created by higher spray pressures. Pressure shouldn't exceed 40 psi.
"Smaller spray droplets are more susceptible to movement by wind, especially the very fine droplets that can stay suspended longer and moved longer distances," Peterson said. "The appropriate spray pressure is critical to produce a good spray pattern and droplet size. Increasing spray pressure reduces spray droplet size and increases the number of fine spray droplet particles that are most susceptible to spray drift. The appropriate spray pressure to optimize performance and minimize drift will depend on the type of spray tip being utilized."
3. DRIVE AT THE SPEED YOU ARE CALIBRATED FOR
After selecting the nozzle you want to use and the best pressure for your desired application rate, be aware of your speed. By slowing down or speeding up, you will change the application rate if you don't adjust your pressure. To maintain application rate per acre, you need to increase your pressure if you increase your speed.
For more information about speed while spraying, read "Speed + Spraying — What Growers Need to Know."
4. BE AWARE OF BOOM HEIGHT
A boom too high off the soil can contribute to drifting, especially in windy conditions. The higher your booms are set, the longer the distance each droplet has to fall, which gives your application more time to travel off path before reaching the desired location.
Ideally, boom height and row spacing should be a 1:1 ratio. So, for example if you have 20-inch row spacing, then booms should be set at 20 inches.
5. WATCH FOR CHANGES IN WEATHER
High winds can increase your chances for spray drift, but you should also try to avoid humid conditions as well. According to Iowa State University, warmer temperatures paired with low humidity levels will cause droplets to evaporate faster and contribute to vapor drift.
"There is no absolute right answer to the question regarding when is it too windy to spray," Peterson said. "Labels will provide maximum wind speeds that can't be exceeded to remain in compliance with the label. However, it still may be too windy to safely spray at lower wind speeds if a highly susceptible crop is downwind of the application. In that situation, the only safe time to spray is when the wind is in the opposite direction."
Check out the Apache Blog for more up-to-date application tips and information.