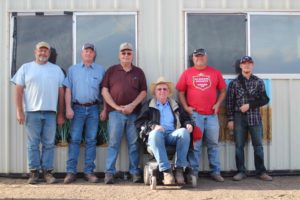 It takes a lot of determination and passion to be a successful farmer in the Texas panhandle, and we've found these qualities to be true in the Brorman household. Greg Brorman and his family live in Deaf Smith County where conditions are extreme and neighbors are scarce. The county area is 1,500 square miles (a little larger than the state of Rhode Island) with an average of five people per square kilometer. The area typically sees less than 19 inches of annual rainfall and temperatures ranging from -22 to 115 degrees Fahrenheit so it's no surprise there's usually more beef production than crops.
But, for the farmers that commit to planting, equipment shopping is about getting the most for their dollar and care less about the color of their machine. Greg Brorman purchased his first Apache in 2009 and has owned one ever since. His family and neighbors immediately took notice. To date, there are now five members of the Brorman family who own an Apache and a total of 13 Apache sprayers in the county. In fact, they fit right in — 1,200 gallon tanks and 132 foot booms are normal where fields are sometimes 1.5 miles long.
"There are still guys running Deere and Case, but a lot of guys around here have gone to Apache because of the economics of it – the price – you can get an Apache much easier than a Deere or Case and they all do the same job," Brorman said. "Plus, the mechanics of the Apache are really simple."
So, to the Brorman's we salute you. We are thankful and proud to be able to call you Apache customers and we look forward to keeping you in economical, red iron for the years to come.
– Matt Hays, Equipment Technologies CEO