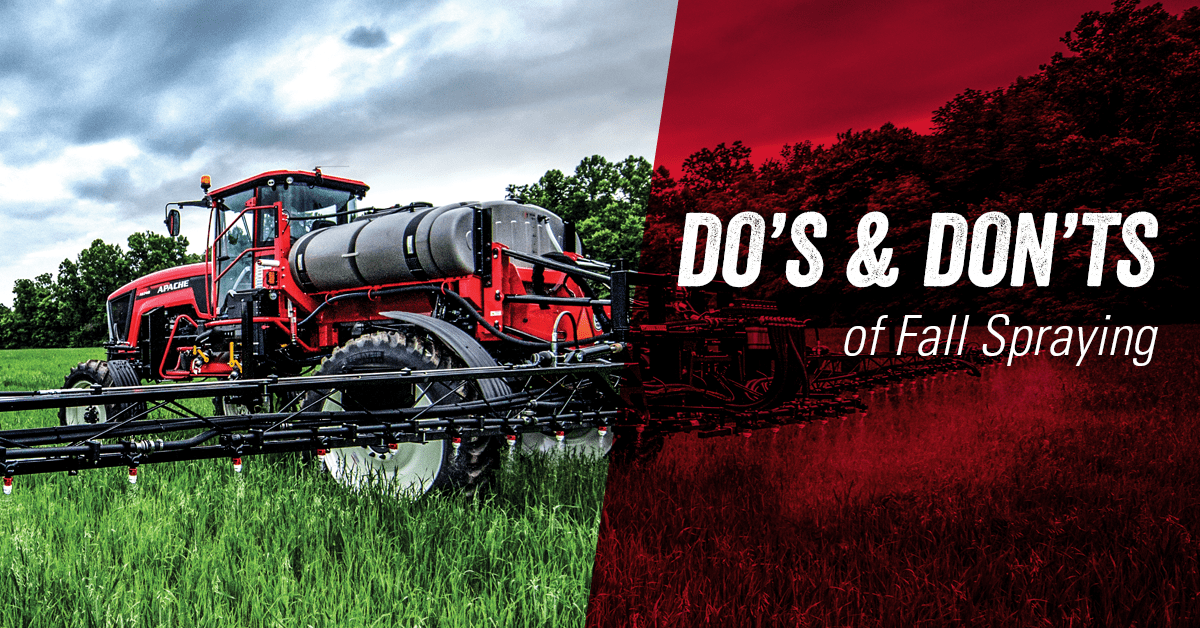 Most growers are gearing up for fall spraying, but there are a few hold outs who don't see the point, we've got some news for you — fall applications are extremely beneficial. Allow us to tell you why (plus, we've got a few tips for you).
Control Weeds, Insects and Corn Residue
While fall treatments help prevent winter annuals and weeds to keep fields clean through spring planting, this application period can include more than just weed treatments. By applying nitrogen to corn stubble, growers can boost decomposition to knock down corn residue and weeds at the same time.
"Fall spraying tends to be more enjoyable than in the spring — you're not in a huge rush and you can take more time to do a better job," said Chris Weaver, Apache Sprayers Application Parts Specialist.
Additionally, when heavy weed cover blankets spring fields, soils remain cool longer, delaying tillage operations and planting. Some winter weeds also provide a haven for insects that attack emerging crops.
Enjoy the Flexibility
More often than not, spring tends to cause undue stress when Mother Nature doesn't cooperate. Cold and wet conditions can push planting dates, resulting in a shorter timeframe for pre-plant herbicide applications, leading to more growers adding a fall herbicide application into their weed control programs. If you plan for a fall herbicide application and the weather doesn't allow it, growers still have their spring application to set things right.
"Fall herbicide applications provide a head start on weed control," Weaver said. "If you're only counting on spring pre-plant applications and weather keeps you at bay, you have no back up plan."
Check Your Flow Control System
Before starting, Weaver suggests growers check their sprayer's flow control system to make sure it is working properly. Application rates are critical for spraying the right amount of nitrogen and herbicides so growers get the most from those applications without wasting product.
"The flow control system regulates the applied gallons per acre and prevents the sprayer from over- or under-applying," Weaver explained.
To check the flow control system, start spraying while the machine is sitting still. Open the manual control screen on the rate controller and increase or decrease the rate, looking to see if the spray pressure responds as it should. That will ensure the control valve is working. As this is happening (usually on the same screen), look at the value for gallons per minute and make sure the reading is not zero. If so, the flowmeter is working properly.
Be Mindful of the Weather
"Typically, I like to get my fall applications done right after harvest," Weaver said. "In my experience, the warmer the daytime temperature is, the better the results. I like a temperature of 55 or higher for fall applications — otherwise it seems like the chemicals don't work as well."
Weaver also said to stay on top of frost forecasts in the weather reports to make sure you avoid freezing your sprayer lines.
Check out the Apache Blog for more articles and up-to-date industry news.
---