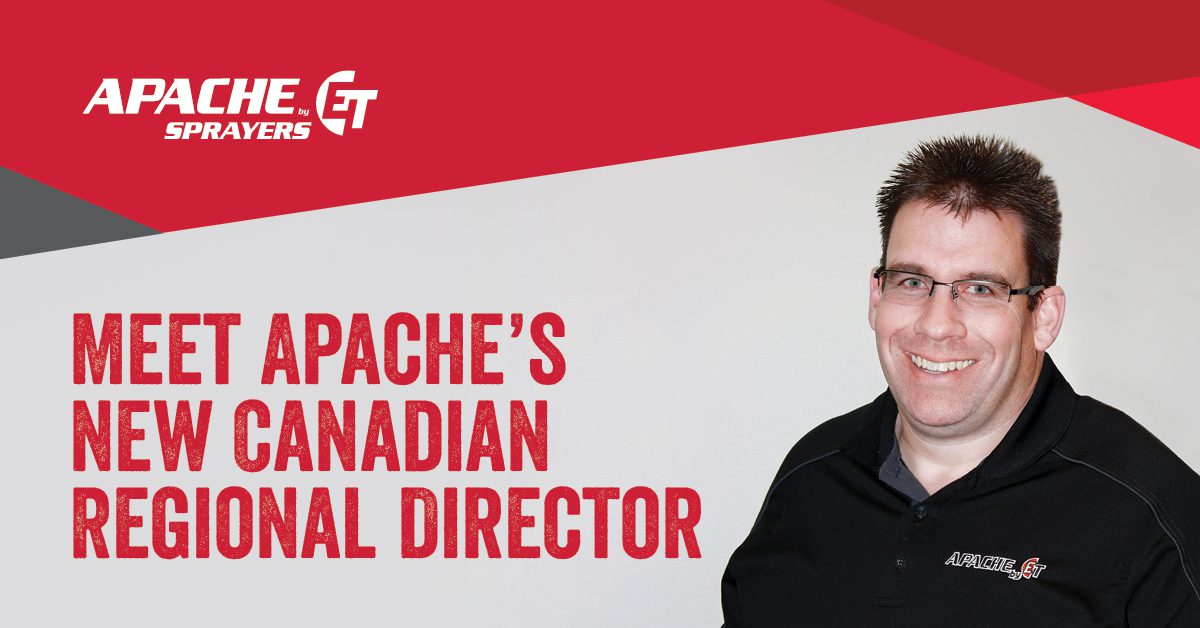 The love of agriculture and farm equipment has never left Eric Friesen since his upbringing on a Saskatchewan family farm. Now, he's parlaying that love of the farm and iron that enables farmers to get their jobs done into a new position with Equipment Technologies.
Friesen is the new Equipment Technologies Regional Director for Western Canada — encompassing British Columbia, Alberta, Saskatchewan and Manitoba. In his new role, he's responsible for business development, parts and sprayer distribution and customer experience for both Apache Sprayers and
Bruin Sprayers.
The longtime farm equipment and machinery sales and service manager brings immense passion and industry experience to his position with Equipment Technologies. After his upbringing on a farm, during which he learned the basics of machinery maintenance and repair, he started working in the
construction sector during high school. That experience led to his apprenticeship as a heavy-duty machine technician and later as a truck maintenance technician.
Several maintenance certifications (diesel mechanics, ABS braking systems, air conditioning systems) later, he started his own business as a mobile repair technician and returned to the agriculture sector two years later in 2001. He later added truck inspection to his long list of mechanical services. Since then, he's been active in managing agricultural and mechanical service businesses in southwestern Saskatchewan.
When he's not providing mechanical services to area farmers, Friesen enjoys motorcycling, jet-skiing, camping and fishing, though "hanging out with my boys during football season" is also high on his list. The father of four also says he enjoys a warm-weather vacation during the cold Canadian winters with his wife of 21 years, Doreen, daughter Larissa and sons Jordan, Isaiah and Tyson.
Equipment Technologies CEO Matt Hays says Friesen's combination of passion and decades in the machinery sales and service sector make him a huge asset to the company and most importantly, to its customers.
"We have known Eric for years, having watched his successful professional advancement and being impressed by his focus on taking good care of customers. He understands our products offer a very compelling value proposition and have enormous potential in Western Canada," Hays says. "I feel lucky and am sure we could not have a better man representing us in the marketplace."