Reliability, hands-on approach make Apache Sprayers a good fit for Manitoba dealer
Darrel Carlisle provides equipment, inputs and services that his customers need, so when the opportunity arose to become an Apache Sprayers Dealer for Equipment Technologies, he knew it would be a good fit for his dealership in Southwest Manitoba.
Why Apache Sprayers
"In this neck of the woods the farm size is still about 3,000 to 10,000 acres and they're very much hands-on, family-run operations," said Carlisle, who operates fertilizer retailer Carlisle Liquid Starters and OK Tire, both in Carroll, Manitoba. "Apache Sprayers are perfect for this area because of the economics and efficiency of the machines. They fit in with the number of acres my customers cover. It's huge for me to be able to bring these efficient machines to my customers."
Carlisle started his fertilizer business in 2005, offering liquid starter and in-furrow fertilizer catering to the soil and crop fertility needs of the area's primarily grain farms. Carlisle, a farmer himself, later added an OK Tire franchise at the same location and is looking to establish Apache Sprayers as a major line of equipment for farmers in the 80-mile radius his businesses serve.
"Apache Sprayers is one of the lines we wanted to get back into this area and make it our primary equipment line," said Carlisle, "We want our guys to see that the Apache Sprayers line is very economical and reliable."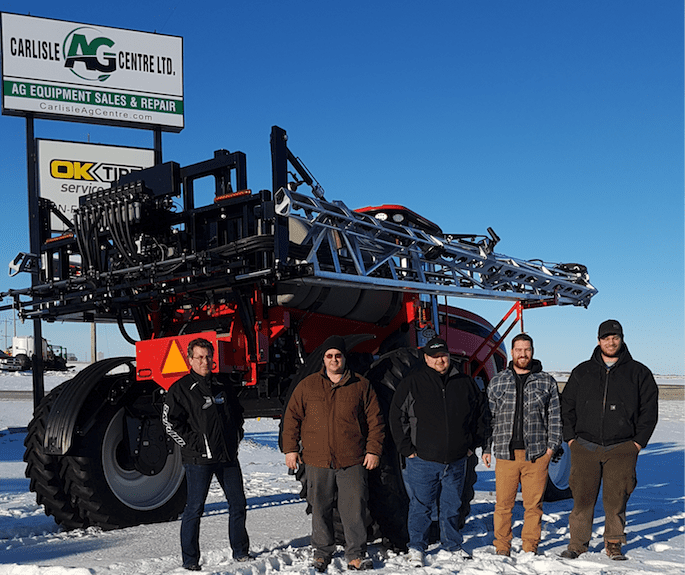 Simple, yet advanced machinery makes it easy for farmers to maintain
Part of what makes Apache Sprayers such a good fit in his area is their relatively simple and straightforward components that make maintenance more manageable. As digital technology has become more prevalent in farm machinery over the last decade, it's made what's historically been largely mechanical work more of an exercise in technology management. In some cases, that's made it difficult for some maintenance technicians to continue to maintain high levels of service for farmers. In the case of Apache Sprayers, Carlisle sees the right balance of conventional mechanics and technology to the ultimate benefit of his customers who operate the machines.
"These machines aren't completely full of electronics that make maintenance issues difficult to diagnose. They're farmer-friendly to maintain. While the service techs can do as much today with a laptop as they could do previously with a wrench, these machines are easy to work on with features like mechanical drive," Carlisle said.
That evolution of farm equipment like sprayers, though posing a challenge, has created new service realities that enable dealers like Carlisle to better serve his customers. Even though it can sometimes require building trust in newer technology among some customers, Carlisle said new technology — especially functions like remote monitoring — can enable his service technicians to provide better service in many cases, fulfilling an important promise he makes to his customers.
Hands-on dealership support when customers need it most
 "Some farmers and techs feel like the technology's outgrown them and they don't understand it. That makes getting the right people difficult, but very important," Carlisle said. "With some of this technology, our tech can tie into a sprayer using GPS and make sure things are set up right without even going out to the farm in some cases. It's definitely helped us from a labor standpoint, and we're able to create new efficiencies for our customers. It's just about getting everybody to understand how these systems work. We're starting to see the benefits of it."
It's that shared priority of efficiency — as well as a hands-on approach to working with sprayers — that Carlisle sees as a common bond he shares with Equipment Technologies and Apache Sprayers staff and leaders. Those are just a few of the reasons why he sees a bright future in connecting his customers with Apache Sprayers, both in the short and long terms.
"They understand the equipment and they're there to help make a sale or keep customers happy. That's something you don't see with bigger companies these days. You don't get that hands-on approach like you do with Apache Sprayers. That's huge for us and for our customers," Carlisle said. "Five years from now, we want to have shown our customers the value of Apache Sprayers and show them that they have an option that's way more affordable and as reliable as the red, green or blue options out there."
Both their shared philosophies as well as the enthusiasm to introduce Apache Sprayers to a new customer base in Southwest Manitoba are also shared between both Carlisle and the team at Equipment Technologies, and the new business relationship is likely to pay strong dividends, with farmer-customers being the ultimate benefactors, said Matt Hays, CEO of Equipment Technologies.
"We have a lot in common with Darrel and the whole team at Carlisle," Hays said. "We're looking forward to having them join our network of dealers, and we're excited to serve the area's farmers with efficient and reliable Apache Sprayers."