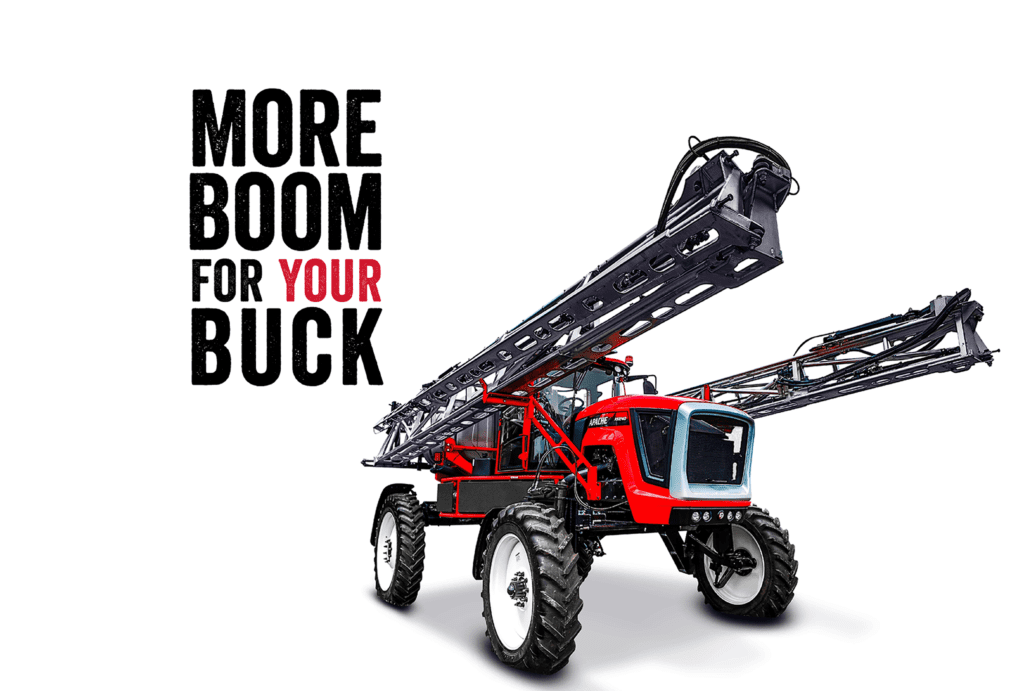 It's not a secret that time equals money, especially in farming. Unpredictable weather, weeds, and pests are challenging enough. But most growers will tell you that their biggest issue is waiting around on custom applicators to spray their fields. Why wait when you can get more boom for your buck with Apache Sprayers equipped with Pommier Booms– the longest, lightest and strongest aluminum booms on the planet.
STRONG LIKE STEEL, LIGHT IN THE FIELD
Pommier, the global leader in aluminum booms, provides superior strength while retaining industry-leading weight advantage. Because aluminum is about one-third the weight of steel, engineers can forge booms that are stronger yet lighter. Less weight equals less soil compaction, improving crop yields and giving growers More Boom for their Buck.
BIGGER BOOMS BUILT FOR CONTACT
Still, think that aluminum booms don't hold up? Think again, pound for pound Pommier aluminum booms are engineered to be strong like steel, yet lightweight in the field Plus, the unique break-away and spring-back Pommier boom feature, safeguards against structural damage from obstacle impact. Reach more and spray more with Apache Sprayers and the best aluminum booms.
MORE BOOM FOR YOUR BUCK
Better boom cushioning results in less wear and tear on the boom and the operator. Pommier Aluminum Booms are smartly designed to reduce maintenance and prolong boom-life. The hydraulic cylinders and ball joints work together to provide maximum control and flexibility. Apache Sprayers and Pommier Booms work just as hard as you do.
Timing is everything, and owning an Apache Sprayer has never been easier. Get back in the driver's seat and get more boom for your buck with Apache Sprayers equipped with Pommier Aluminum Booms. Request a test drive demo and get a free, no-obligation quote. We guarantee that by the next harvest, you will be glad you did.