MOORES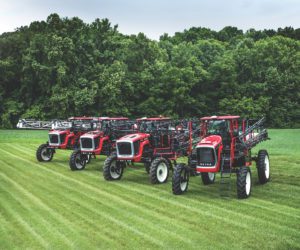 VILLE, Indiana (August 20, 2018) – Efficiency, durability, precision and productivity have never been more important for agricultural sprayer owners and operators. With the unveiling of the 2019 model year lineup, Apache Sprayers do even more to meet these critical and growing needs for farmers and custom applicators.
The 2019 model year Apache Sprayers build upon recent innovations to deliver even more of the performance and value producers have to come to expect. The 2019 lineup features new components that improve machine durability, longevity, operator convenience and comfort, all while keeping the sprayers up to 33% lighter than competing sprayers. It means the new Apache Sprayers — and their operators — will be able to work longer, smarter and more efficiently in the field.
"Our customers need easy-to-operate, high-efficiency, durable sprayers they can count on to deliver a high return on investment," said Matt Hays, CEO of Equipment Technologies. "The new features in our 2019 model year deliver on those needs and more, and Apache Sprayers continue to be the gold standard in continuous innovation and cost-efficiency for sprayer owners and operators. Self-improvement is a huge part of our company, and we continue to work hard to exceed our customers' evolving needs. I think our 2019 model year reflects those shared values."
The improvements offered in the 2019 model year of Apache Sprayers start on the outside and pack a punch on the inside:
Hood Design: A new one-piece hood design with bold decals distinguish Apache Sprayers from other machines in the field and signify the power found under that hood. The one-piece design also makes the new hood more durable even in rough field conditions.
Load-distributing Frame Structure: An added cross member under the product tank improves load distribution and balance.
Robust Adjustable Axle: Add flexibility through higher capacity and splined kingpins with the optional adjustable axle. New Apache Sprayers are available with the new adjustable axle or a standard fixed axle.
Raven Advanced RS1™ Steering System: The 2019 lineup of Apache Sprayers includes upgraded, cutting-edge precision technology like the Raven Advanced RS1TM Steering System, the most accurate high-speed steering system in the sprayer industry. On top of next-level steering accuracy, the RS1 system adds features like advanced steering electronics and the Viper 4+ advanced field computer for product application and boom control.
Raven Slingshot® In-Cab Remote Support: Downtime can mean the difference between profit and loss when it comes to a spraying application. With the new Raven Slingshot® in-cab remote support, Apache Sprayer operators now have a new tool to keep any downtime to a minimum. With an unprecedented two-year subscription included in each new sprayer, Slingshot provides remote troubleshooting, software updates and operator assistant functions, including access to the machine and precision data for faster troubleshooting, over-the-air updates, remote desktop service help, data logging, machine diagnostics, data analytics and more. With Raven Slingshot, the operator has a new level of control and support to maximize the efficiency of every spraying operation.
Positive-position Joystick: Inside the cab, the 2019 Apache Sprayers feature an all-new positive-position joystick that has been custom-engineered to specifically fit the new machines. The joystick provides a new level of control via a versatile, durable dual-axis configuration with ergonomic features like a silicon pad and replaceable components that make it both comfortable and functional in the long term.
Bluetooth® Capabilities: Bluetooth® capabilities in the cab, including a Bluetooth-ready Jensen® audio system with hand-free calling and Sirius XM® satellite radio, add convenience for the operator working long hours in the field.
"Taken together, the innovations in the 2019 model year of Apache Sprayers will help operators work better, smarter, longer and more efficiently," Hays said. "Yet, with so many improvements, we still deliver industry-leading value in Apache Sprayers. We feel our combination of innovation and value is unique to the sprayer industry."
---
About Apache Sprayers
Apache Sprayers builds simple, dependable, lightweight and affordable self-propelled sprayers for the everyday farmer. Every sprayer is manufactured in Mooresville, Indiana, by the Apache Sprayers parent company, Equipment Technologies. The Apache brand was honored with the EquipmentWatch™ Highest Retained Value Award™ in 2016, 2017 and 2018 for the 1000 series Apache Sprayer. Sprayers are distributed throughout the United States, Canada, Australia and C.I.S. Learn more about Apache Sprayers at apachesprayers.com
Media Contact:
Emily Nichols
Lessing-Flynn
Des Moines, Iowa
emily@lessingflynn.com
515-274-9271