MOORESVILLE, Indiana (February 20, 2018) – Three-peat is tough to beat. Equipment Technologies (ET) has been named a 2018 winner in the EquipmentWatch Highest Retained Value Awards program, the industry's only award based on residual values for heavy equipment. The Apache 1000 Series sprayer received this honor as the model series calculated to retain the highest percentage of its original value after five years among all competitors in the self-propelled sprayer category. This is the 1000 Series sprayer's third consecutive win for the award — ET is the only manufacturer that has achieved three wins within the sprayer category.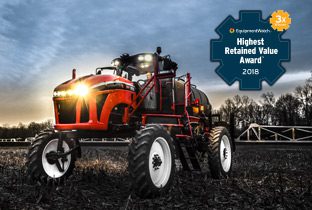 Apache prides itself on producing high-quality sprayers with a rugged reliability at a fair price to keep resale values high and cost of ownership low.
"We are extremely proud to have won this award for three consecutive years — it speaks to the true reliability of Apache Sprayers," said ET CEO Matt Hays. "The quality craftsmanship that goes into each sprayer on the line is one of the key factors that sets us apart as the best sprayer in the industry."
To name the 2018 Highest Retained Value Award winners, the EquipmentWatch analysts considered 12,000 models with up to 20 model years. EquipmentWatch then uses a proprietary algorithm to estimate residual values up to 84 months into the future.
"Retained value is a critical measuring stick for equipment buyers, dealers and fleet managers throughout North America that speaks to each machine's historic performance and value," said Garrett Schemmel, Vice President of EquipmentWatch. "The Highest Retained Value Award program has more weight now than ever after three years, as EquipmentWatch continues to grow and evolve so does the data set that drives these nominations."
To learn more about the winning models and program methodology visit: www.equipmentwatch.com/methodology-highest-retained-value-awards/.
Apache Sprayers
Apache Sprayers creates simple, dependable, lightweight and affordable self-propelled sprayers for the everyday farmer. Every sprayer is manufactured in Mooresville, Indiana, by the Apache Sprayers parent company Equipment Technologies. Apache Sprayers are distributed throughout the United States, Canada, Australia and C.I.S. Learn more about Apache Sprayers at apachesprayers.com.