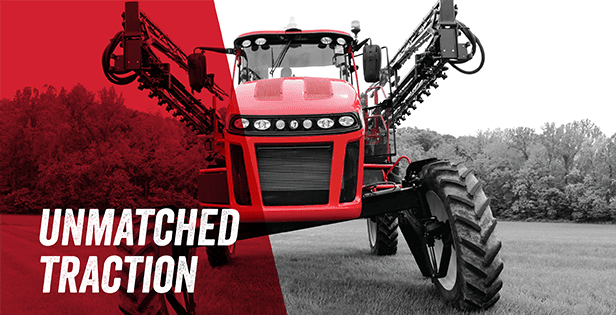 Any self-propelled sprayer can navigate a flat, dry field – but that's not the real world of farming. Compare how Apache performs in extreme conditions with any hydrostatic sprayer and you may be surprised at the advantages.
Smarter Weight Distribution: Hydrostatic machines require 50/50 weight distribution. Without it, losing traction in one wheel will cause the machine to plow into the ground. With an Apache mechanical drive sprayer, 70 percent of the weight is centered over the rear axle, providing superior traction in any condition.
Patented Design: The pivoting front axle design and oscillating joint provide superior traction and handling in tough, uneven field conditions.
Superior Ground Contact: Apache Sprayers feature flex-frame construction that ensures all four wheels are always on the ground. Lock-up torque converter and limited slip differential create constant contact with the ground rear wheels and keep them turning in all field conditions.
"Some companies talk about four-wheel drive. I'd put this thing up against a four-wheel drive any day. With those hydrostats, you might get a couple wheels spinning, but you're not going to get them all spinning. With an Apache Sprayer, you don't need to. If the back wheels are spinning and you use common sense, you're going to get through the mud."
– Todd George, Hardy, IA