Few can match the return on investment of Apache Sprayers.
The story goes that as soon as you drive a brand-new truck off the lot, it immediately loses 10-15% of its value. The stories told by Apache Sprayers owners are much different. Apache Sprayers retain value like none other, and we have the awards to prove it.
One of the highest resale values in the industry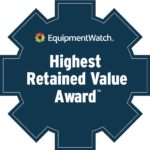 According to a statistical analysis conducted at the Indiana University Kelley School of Business, the Apache 1000 Series Sprayer retains an average of 72% of its value after five years — one of the highest in the farm equipment industry.
In fact, EquipmentWatch™ recognized Apache Sprayers as the "Best Retained Value" in the farm equipment industry for three consecutive years (2016, 2017 and 2018).
"I think the retained value just goes to show how well these machines can hold up and how long they'll last. I've kept track of how much my machine is worth today, and actually, I could sell it for about $20,000 more than what I bought it for three years ago."
– Jared Wagner (Danville, Iowa)
The state of depreciation
A statistical analysis performed by the American Society of Agricultural and Biological Engineers shows sprayers have an average remaining salvage value of 65% after one year and only 50% after five years.Conversely, as mentioned above, Apache Sprayers retain an average of 72% of their value after five years.
Just see how Apache Sprayers compare to industry averages – Apache Sprayers hold their value better than the competition.
REMAINING SALVAGE VALUE AS
PERCENT OF NEW LIST PRICE
Machine
Age
Planter,
Drill, Sprayer
1
65%
2
60%
3
56%
4
53%
5
50%
6
48%
7
46%
8
44%
9
42%
10
40%
11
39%
12
38%
13
36%
14
35%
15
34%
16
33%
17
32%
18
30%
19
29%
20
29%
The champion of sprayer ROI
A simple definition of return on investment (ROI): the ratio of money gained or lost on an investment relative to the cost of the investment. So how do you calculate the ROI of a self-propelled sprayer?
First, compare the initial investment (or purchase price) with the amount later recovered when selling or trading the sprayer.
Next, compare the cost of ownership to the alternative: paying for custom application. Owners of the Apache Sprayers will tell you it's a machine that means a great deal to their bottom line.
"Most custom applicators cost so much an acre. We've taken those numbers and we've taken our numbers. We looked at what it actually costs to own the (Apache Sprayer) – operational costs, maintenance, and fuel – and it's putting somewhere around $55,000-60,000 per year back into our bottom line." — Del Unger (Carlisle, Indiana)
Want to find out what your ROI could be if you owned your own sprayer? Get your free calculation using the form!