When it comes to investing in a farm sprayer there are a lot of facts to consider. You work hard for your money and you want to make sure you're getting the most value and maximum productivity from your farm equipment. That's why we produce the best, most efficient, and affordable agricultural sprayers in the industry and back it with the best warranty on the market. Keep reading to find out the 3 reasons Apache Sprayers are better.

1. Return on Investment
Value is always a factor to consider when investing in farm equipment and agricultural sprayers are no exception. After all, farming is a business, and return on investment matters. In fact, Apache Sprayers are favored by profit-focused farmers who want the highest possible return on their investment.
And speaking of return on investment, with Apache you can spray for as little as $3 an acre! But don't just take our word for it because our customers say it best.
"The dependability, the pricing and the serviceability – it's the complete package. It was a no brainer to me. our custom applicators were in the $5-$7 range. We're comfortably underneath $3/acre with our Apache sprayer and that would be a high number for me."

Pervis Ellis Harrisburg, Illinois
In addition, Apache Sprayers by Equipment Technologies is one of the first in the U.S. to adopt Cummins Performance Series power- this means an increase in both power and savings. "With the new Cummins Performance Series engines, Apache sprayers receive a performance boost of up to 15% due to the increased power and torque available throughout the engine speed range. They are also more productive on the farm, saving farmers 8% in fuel with an overall combined fuel and Diesel Exhaust Fluid (DEF) saving of 3%. Not only does this have significant environmental and sustainability benefits, but it also lowers operating costs – which is a big win for our customers.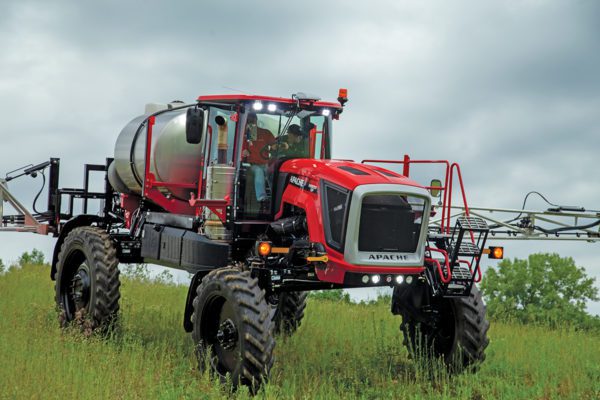 2. Best Warranty in the Industry
The best sprayer on the market is backed by the industry's best warranty. Every Apache that rolls off the assembly line comes with a five-year limited warranty. Apache Sprayers by Equipment Technologies is the only manufacturer with full machine coverage for the first two years (<1,000 hrs).
While other Ag equipment manufacturers attempt to produce everything from combines to sprayers to lawn mowers, we have stayed true to our vision since the beginning. We focus all of our resources on creating the best agricultural sprayers in the industry and then we put all our cards on the table with the industry's best 5-year powertrain warranty.
"For ET to be able to put a 5-year warranty on a piece of equipment says they definitely stand behind it and feel like they've done the best they can in building a quality product."

Nate Kuntz Covington Ohio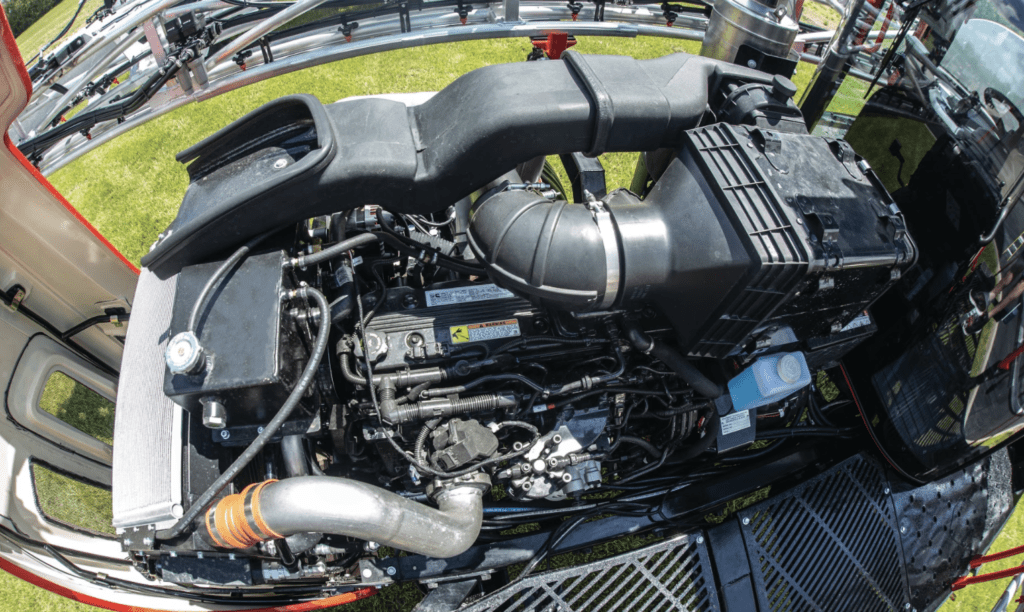 3. Highest Retained Value
Apache Sprayers is proud to deliver customers unbeatable value, year after In fact, this year EquipmentWatch™ named AS Series Sprayers as a four-time award winner for Highest Retained Value (across all product categories – not just sprayers).
"For purchasers of equipment, there is perhaps no single measurement more influential in the buying decision process," said Garrett Schemmel, Vice President of EquipmentWatch. "The residual value of an asset will have a significant impact on leasing terms and lifetime ownership costs. Informed buyers do well to weigh value retention heavily when considering equipment acquisition".
"I think the retained value just goes to show how well these machines can hold up and how long they'll last. I've kept track of how much my machine is worth today, and actually, I could sell it for about $20,000 more than what I bought it for three years ago."


– Jared Wagner (Danville, Iowa)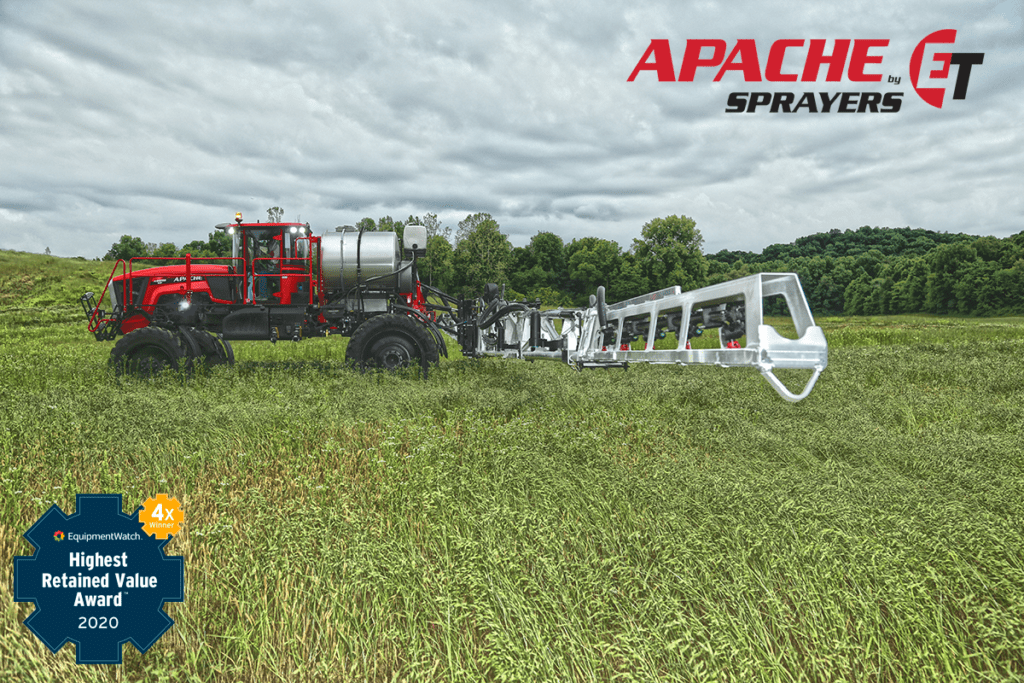 Ready to experience the Apache Difference?
Apache Sprayers cost less, weighs less and delivers more.
With our lightweight Apache Sprayers you can spray for as little as $3 an acre– reducing soil compaction, increasing crop yields and maximizing your ROI. Backed by the best warranty in the industry Apache is the four-time award winner for Highest Retained Value Sprayer.

Request a free field demo and find out why EquipmentWATCH™ ranks Apache Sprayers Highest Retained Value in the industry, or calculate your total cost of ownership to determine the lifetime value of owning an Apache Sprayer.